The global online music education market is expected to reach USD 656.7 Million by 2030, growing at a CAGR of 19.1% from the year 2022 to 2030. The key factors driving the growth are the popularity of online learning platforms, the inclination of people toward music as a career, and an increase in the number of people learning music as a hobby.
With the advent of new technologies and digitization online music teaching industry is evolving. Because of the convenience and ease, music learners are getting more inclined toward online music teaching platforms, eventually, increasing the demands for such platforms. The online music teaching industry is growing rapidly and can provide numerous lucrative opportunities for budding entrepreneurs.
If you too are interested in stepping into the music education industry, further, in this blog, we discuss how you can start your music teaching business hassle-free.
Things to consider before starting an online music teaching business
Before deep diving into the process of how to start your music teaching business, let's see the things to consider before starting an online music teaching business.
Conduct An Analysis Of The Online Music Teaching Industry
It is extremely important to thoroughly analyze the industry you are stepping into. A good market overview of the online music teaching industry can help you in making strategic business decisions. By conducting thorough market research, you can get an idea about various lucrative niches within the industry. Also, can get a deep understanding of the demands of music learners you want to cater through your platform.
For instance, according to a research, Piano and Guitar hold the highest market share in the online music education industry. Piano lessons held a market value of around US $44.7 million in 2020 followed by Guitar in second place. Hence, we can clearly see that the Piano and Guitar are the lucrative fields as majority of music enthusiasts are inclined towards these. However, a gradual growth has also been observed in the number of learners who are interested in learning other instruments like ukulele, tabla, flute, and bass creating a demand for such fields in the industry.
Therefore, knowing about such valuable data can help businesses in making informed business decisions before launching their platforms.
Know About The Top Players of Online Music Teaching Business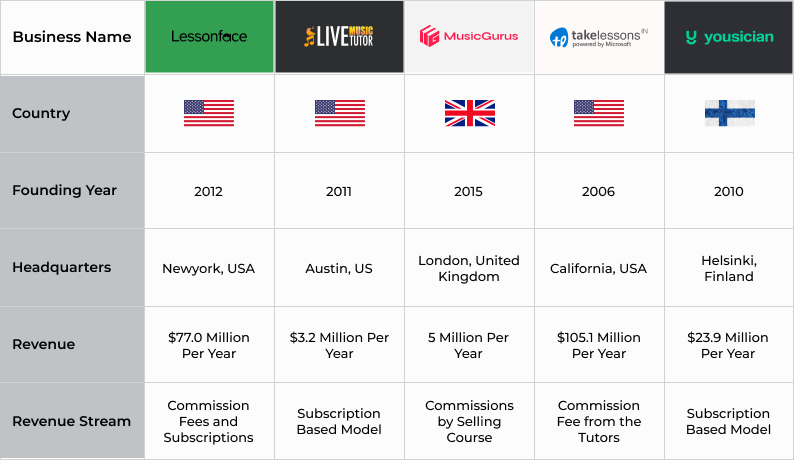 Lessonface
Lessonface is an online learning platform that connects students interested in learning music with talented teachers around the globe. Lessonface offers one-on-one lessons and group classes to music enthusiasts. Their mission is to help students achieve their music learning goals while supporting teachers in showcasing their talents.
Founded in: 2012
Headquarter: Newyork, USA
Revenue: $77.0 million per year
Business Model of Lessonface
Students register themselves on Lessonface for free.
Next, they login with their registration details.
Learners find the teachers as per their needs. They can even filter out teachers based on the availability, category, and language.
Learners get matched with teachers and start their learning journey.
They can watch a 15 mins trial lesson and can read about the teacher's teaching style, experience, and methods in detail to make an informed decision.
Further, learners can book one lesson, subscribe to weekly lessons or can buy a package of multiple lessons.
Lessonface has a 24-hour cancellation policy and lessons can be canceled upto 24 hours before the start of the lesson.
Revenue Model
Lessonface earns revenue through commission fees and subscriptions. Below are the different types of packages Lessonface offer to its learners.
One time lessons
Lesson Packages
Subscriptions
Livemusictutor
Livemusictutor is an interactive platform that provides music education and music therapy. This platform provides one-to-one, group, and mass audience lessons in over 200 countries. With 100,000 plus lessons that are delivered by licensed therapists and highly qualified instructors have made this platform immensely popular among learners.
Founded in: 2011
Headquarters: Austin, US
Revenue: $3.2 million per year
Business Model of Livemusictutor
Music enthusiasts can sign up and create their profile for free.
Further, they can select an instrument they want to learn
Next, find the instructor that matches their goals.
Learners can pay their fee and book a lesson.
Revenue Model
Livemusictutor earns majority of its revenue by subscription based model. They offer diverse lessons to their learners like
-Individual lessons : For individual lessons, below are the followings packs available :
Starter Pack
Plus Pack
Premium Pack
Enterprise Pack
-Group lesson
For Group lessons, cost is $25 per lesson per student for one hour.
-Classroom lessons
-Master lessons and events
MusicGurus
MusicGurus is an online music learning platform that partners with world's best musicians and music companies to create interactive music lessons. MusicGurus is fast becoming one of the most popular industry leaders in the online music learning community. This platform offers numerous courses ranging from guitar, and piano to violin, songwriting, etc.
Founded in: 2015
Headquarters: London, United Kingdom
Revenue: Around 5 Million per year
Business Model of MusicGurus
Learners can create their accounts on MusicGuru for free by simply logging in with an email address or through their Facebook account.
Next, they can find courses based on their level, genre, and instrument.
Learners can even avail of lessons from renowned music gurus around the world.
They can view a free trail session and can read reviews about the courses they are opting for.
After finalizing the course they can book it by paying the course fee.
Revenue Model
MusicGuru earns its revenue from commissions by selling course.
Courses offered are one-time paid courses.
Takelessons
Founded in 2006, Takelessons is a very popular online music learning platform. On this platform, 4 Million plus lessons have been taught and this platform is serving around 20,000 students with more than 300 subjects to choose from.
Founded in: 2006
Headquarters: California, United States
Revenue: around $105.1 million per year
Business Model of Takelessons
Learners can choose their tutors from the list of tutors available on the platform.
Learners can go through the teacher's profile and can view ratings and reviews for the teacher.
Further, they can book private, group, or pre-recorded classes depending on their requirements.
Learners can opt for 1, 5, 10, or 15 lessons in a package.
After selecting their package, learners can schedule their lessons by opting for dates and time as per their availability.
Next step is to fill in the contact information and further make payment in online mode.
Learners can start their music learning journey seamlessly.
Revenue Model
Takelessons earns its revenue by charging commission fee from the tutors on their platform. Takelesson offer the following lesson types to its learners:
Private lessons
Group lessons
Pre-recorded content
Yousician
Yousician is an online music learning platform that makes learning to play an instrument fun and easy for learners. The interactive tutorials, goals-based learning, and progress tracking make this platform unique. This platform provides an interactive, gamified approach to learning guitar, piano, ukulele, bass, or singing. Yousicians has 20 million plus active users on its platform and is offering more than 9000 lessons.
Founded in: 2010
Headquarters: Helsinki, Finland
Revenue: $23.9 million per year
Business Model of Yousician
Yousician lets learners choose from the list of instruments.
After that, learners register themselves on the platform and can start with free 7-days trials.
Within the trial period, learners can cancel their membership anytime or will get auto-enrolled for their yearly plan.
The platform also offers one free lesson per day, however, to get more access learners need to sign up for membership.
Revenue Model
Yousician works on subscription based model. Various membership packages offered by Yousician are:
Premium membership
Premium plus personal
Premium plus family
The Memberships are offered on a monthly or yearly basis.
Be The Next Gamechanger In The Online Music Learning Industry
Know Rules and Regulations to Start Online Music Teaching Business
Online music teaching industry is a lucrative niche in eLearning, but before jumping right into it there are certain legal requirements you must meet. Further, we cover all the legal requirements for an online music teaching business.
Decide a business structure depending on your business goals and needs. An online music teaching business can be broadly registered as sole proprietorship, S-corporation, C-corporation, or limited liability company.
Do a comprehensive background check for the music teachers on your platform. Check their criminal records, identity documentation, educational qualification, work experience, etc.
Provide a cyber-safe learning environment to learners by ensuring the platform is GDPR compliant. Additionally, safeguard the personal information of the users on your platform under a strong data protection policy.
Get your business insured by opting for an insurance coverage plan.
Opt for a permit and license depending on the rules and regulations of the country where your business is located.
Now that, the legal aspects of a music teaching business has been discussed. In the next section, let's see the step-by-step approach to build a successful online music teaching business.
Step-by-Step Approach To Build An Online Music Teaching Platform
Step-1 Conduct In-depth Market Research
It is said that "Whoever gets closer to the customer wins." Therefore, is it highly recommended to carry out in-depth market research on your industry, competition, and target audience. Valuable information can be gained through various reports, government statistics, case studies, etc.
Getting a closer look at your target market and offering the services your target audience wants can help you achieve tremendous success in the long run. Studying your competitors, finding their strengths and weaknesses, and implementing those learnings in your business is a good practice before starting a platform. In addition to that, analyzing the market demand gap, outreach, and market trends help businesses in getting an edge over their competitors.
Step-2 Finalize The Features Of Your Platform
After in-depth research and knowing your target audience inside out. The next step is to finalize the features and functionalities you want to offer to music learners on your platform. Following are the essential features most successful online music teaching platforms offer to their learners.
Interactive and collaborative environment
Seamless Video lessons
Easy search filters
Live feedback, discussion, and forums
Easy payment methods
Multilingual
Multicurrency
Reports and Analytics
Ratings and reviews
Build A Feature-Rich Online Music Teaching Platform
Step 3: Decide A Business Model and Revenue Streams
A good business model creates a virtuous cycle that, over time, results in competitive advantages for the business. Hence, after finalizing the features and functionality of the platform, the next crucial step is to decide on a strong business model as per your business requirements. It is recommended to build a strong business model using the research which you have already done. You can also consider the following factors while developing a business model:
Your business goals and objectives
Your business structure
Target market
Marketing strategy
In addition to a strong business model, it is equally important to gain information on various lucrative financial opportunities that you can avail of through your platform. Following are some of the popular revenue streams for online music teaching platforms.
Subscription fee
Live course fee
Recorded content fee
E-books/Songbooks
Membership fee
Professional certification
Step 4: Develop A Unique Brand Identity
Now that, the business model is decided and revenue streams are finalized, the next critical step is to start establishing your brand identity in the market. Establishing a brand identity in the industry makes it easy for your audience to identify and interact with your brand. Establishing a personal brand helps you in building trust among your audience and become an industry leader.
Businesses need to decide on a name for their brand and must ensure that the name relates to the core value of their business. Besides this, they need to create a unique logo and a unique color theme for the platform based on their business idea.
Step 5: Build A Reliable Music Teaching Platform
Till now, we have covered almost all important aspects of building a successful online music teaching business. Further, the next big step is to build a reliable platform and launch it in the market. One such popular solution that can help you launch your platform hassle-free is Yo!Coach.
Yo!Coach is a comprehensive solution that comes integrated with exemplary features to help entrepreneurs set up their online music teaching business quickly. It is a versatile solution that offers numerous features that can make you stand out from your competitors in the online music teaching industry. From streamlining the process of the platform to managing teachers and learners Yo!Coach can do it all.
Key highlights of Yo!Coach are listed below:
100% White-label
Pre-integrated with popular Video conferencing APIs
Multilingual
Multicurrency
Fully customizable
GDPR compliant
Multipayment gateways
Yo!Coach has helped several entrepreneurs establish their online music teaching businesses successfully. Below mentioned are some of the success stories.
Launch An Online Music Teaching Business With Yo!Coach
Successful Online Music Teaching Platforms Powered By Yo!Coach
Online Lessons
Online Lessons provide students and teachers with a platform where they can connect and achieve their music learning goals together. They strive to provide world-class lessons to students regardless of where they are in the world. They provide numerous courses serving all age groups and abilities. This platform effortlessly connects experienced teachers with enthusiastic learners.
Instrumently
Instrumently is an online music learning platform that provides instrument lessons by music masters. They provide music lessons and encourage students to learn the basics of musical instruments. The goal of Instrumently is to provide an online interactive music platform that brings together music masters, students, and music enthusiasts from all over the world.
Hello Music World
Hello Music World provides innovative music teaching programs. Founded by social entrepreneur Karen Kim in 1991, Hello Music World has educated thousands of children across the globe from Australia to Abu Dhabi. They offer one-to-one, group classes, and self-paced courses.
Yo!Coach is trusted by music teaching businesses all over the world, this is a powerful solution to help you grow your business and launch it hassle-free.
View complete portfolio of Yo!Coach's clients
Step 6: Marketing Of The Platform
In such a competitive industry, it's important to effectively promote your online music teaching business. Even if you feel you have developed the best music teaching platform, your job is still half-done without marketing. Effective marketing will drive user engagement on your platform, hence, increasing its popularity. Some of the proven ways to create awareness and promote your online music teaching business are through blogging, press releases, email marketing, SEO/SEM, Google Adwords, and by Word of mouth.
Join The Bandwagon
The demand for online music learning is rising, and it provides numerous lucrative opportunities for entrepreneurs who want to establish their online music teaching business. As we move towards a music education industry advanced by technology, online music learning is all set to become one of the most popular businesses, and is likely to dominate the music industry in the coming future. If you are looking for an expert guidance on how you can start your own online music teaching business, Yo!Coach is there to help you.