Rapid globalization and cross-border economic activities have created the need for people from diverse backgrounds, ethnicities, and cultures to communicate with each other in a common language. English being the most widely spoken and global language, can bridge this gap effectively. Therefore, people are actively looking for reliable online English learning platforms.
VIPKID is one such platform that has revolutionized the way people learn the English language. It has created a global community where students and teachers can connect, learn, and grow together. This language learning platform has gained significant attention for its innovative offerings such as one-to-one classes, personalized instruction, cross-cultural communication, and more.
If you are an entrepreneur interested in entering this highly lucrative domain and have the aspiration of building a similar platform of your own, we have got you covered in this blog. Let's gain insights on how to build a platform like VIPKID successfully.
But before that, let's know more about VIPKID and take a look at its success story.
Success Story of VIPKID – How it All Started?
Founded in 2013 by Cindy Mi in China, VIPKID is a global eLearning platform that wants to make language learning convenient and accessible for every child in the age group of 4-15. To fulfill this mission they hire native speakers from countries like US and Canada.
In merely four years after its launch, VIPKID has reached an annual revenue turnover of RMB 5 billion (about $700 million). Currently, VIPKID is one of the most popular and biggest online English learning platforms with a total valuation of over $3 billion. With 100,000+ teachers, this platform is trusted by more than 1 million students across the world.
Funding Round

Year

Round

Amount

Investors

2010

Series A

$80 million

Sequoia Capital China

2015

Series B

$20 million

Northern Light Venture Capital

2016

Series C

$100 million

NA

2018

Series D

$500 million

Coatue, Sequoia, Capital China, Tencent, YF Capital

2019

Series E

$150 million

Tencent
Launch a Successful Language Learning Platform like VIPKID
How VIPKID Works?
Let's dive into how VIPKID works:
Students register themselves on the platform.
Find the tutor and book the slot for a specific time period. (Students can choose a teacher based on different criteria such as experience, hourly rates, and availability)
Teachers get an update once they are booked.
Teachers and students connect on the platform and start their language-learning journey.
VIPKID pays a fixed base pay rate per class to their teachers and each class is for 25 minutes.
Steps to Start a Language Learning Business like VIPKID
Starting a language learning business may seem a cumbersome task to begin with, however, with the right strategies, process, and reliable software this can be done hassle-free.
Here are the steps you need to follow before beginning with the process to build your language learning platform.
List down details about what you want to provide to your target audience, what pain points are you going to solve, and how you can make your platform unique.
Research the target audience, the features & functionality in the trend, and the technologies you will be using.
Connect with a prominent organization that has a significant presence in the domain. Seek out companies with prior experience in developing platforms like VIPKID.
Finalize the essential requirements and initiate the process of developing your online tutoring platform. Furthermore, decide on marketing strategies to promote your services and platform.
Set Your Business Idea to Action Today!
Essential Features You Need in an eLearning Platform Like VIPKID
To create an impactful online learning platform similar to VIPKID, you must consider implementing these features into your platform.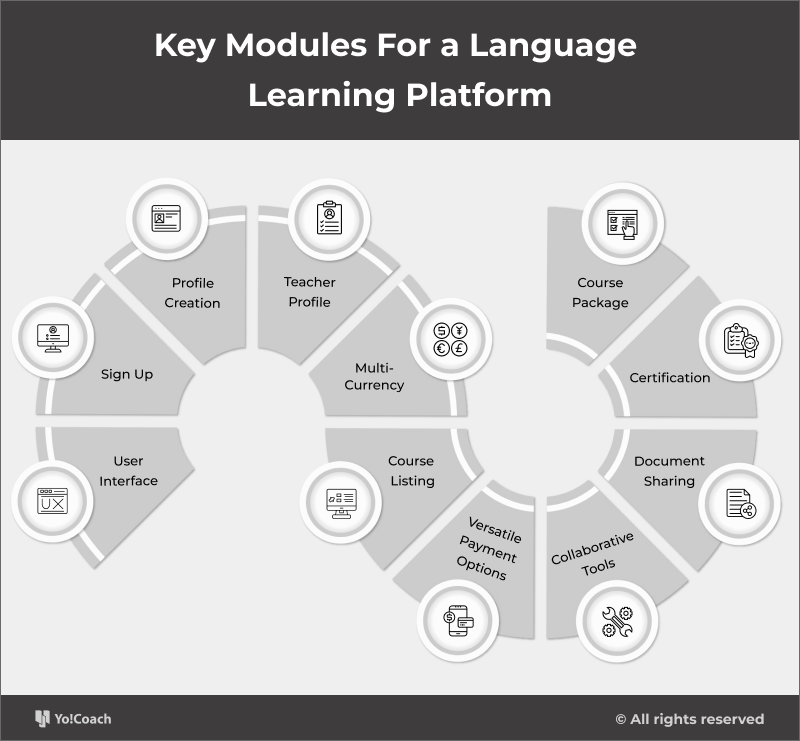 Engaging and Interactive User Interface
UX/UI plays an important role in the success of an online learning platform. Offer a user-friendly and engaging platform to students on your platform.
Registration and Log-in
Offer a user-friendly registration and log-in process incorporated with advanced verification features while minimizing the required user information.
Profile Creation
Allow tutors and students to set up their profiles with ease. Let them incorporate important information and other innovative elements like their social media links for better communication.
Descriptive Teacher Profile
Enable teachers to create a detailed page about themselves and provide learners with an in-depth understanding of the tutor's profiles and expertise.
Multilingual and Multi-Currency Support
For global reach offer multi-language functionality on your platform. Accommodate diverse learners in their preferred language. With multi-currency functionality break the geographical barrier and serve your learners around the world.
Comprehensive Course Listing
Display detailed information about the offered courses facilitating easy access to course specifications. List important information like course duration, detailed introduction of courses along with the learning objectives.
Versatile Payment Options
Integrate a variety of payment options such as eWallet, debit or credit cards, net banking, or more while offering convenience to learners and fostering a sense of trust and reliability.
Include video calling functionality, virtual whiteboard, screen sharing, discussion forum, and more to enhance the learning experience.
Document Sharing
Enable seamless sharing of notes, assignments, and other learning materials between students and teachers on your platform.
Certification Listing
Offer certification to learners after successful completion of their courses.
Course Package Listing
These allow you to provide detailed information about course fees and other benefits, helping users make informed decisions about the course they are choosing.
Planning to Build a Feature-Rich Language Learning Platform
How Yo!Coach can Help in Building A Platform Similar to VIPKID?
Yo!Coach is a robust language learning software that comes pre-built with all essential features including the ones mentioned above. This is a ready-made software that enables speedy launch, hence, reducing the time to market.
Many advanced features such as video conferencing tools, virtual whiteboards, discussion forums, multiple payment options, multilingual capabilities, and more are already present in this software, hence, making it a reliable choice.
Moreover, it is an ideal software for entrepreneurs primarily because of the following aspects.
No coding requirement
Full source code ownership
Lifetime license
No recurring charges
GDPR compliant
Fully customizable
Highly scalable
Full technical support
With a wide suite of features, Yo!Coach can efficiently cater to the growing demands of the online learning industry and can help entrepreneurs step into this industry with ease.
Yo!Coach has already served global clientele around the world and is involved with key market players in the eLearning industry. The team of experts is highly capable of developing a reliable marketplace and can cater to your business requirements with their solution. The positive reviews and client testimonials are proof of the unmatched support and services that Yo!Coach team offer.
Watch this video to have a clearer understanding of the clientele Yo!Coach has served.