Earlier, 1979 lawyers communicated using a landline or by writing a letter. The competition was just the law firm down the street. But the advent of technology has brought significant change for legal professionals. Today, everything is available at the tap of a button. Lawyers are not only competing with other law firms but also with a plethora of legal advice/forms available on the internet.
With increasing pressure to address the current and future business challenges, there is a dire need to confront a complex and ever-changing regulatory landscape. This can be done by starting an online legal consultation platform where lawyers can consider articulating their value, such as their unique experience, insight and expertise in mainstream management consultancy, risk advisory, tax management consulting, intellectual property, litigation and more. In this blog, we have covered:
Table of Contents
"Access to Justice" Redefined – Online Legal Consultation Platforms
An online legal consultation platform enables users to effortlessly find a good lawyer who matches their requisites for consultation. Such a platform can help users browse for professionals based on parameters such as budget, type of legal proceeding, time, and more. It caters to 3 primary audiences:
Clients (end-user)
Legal Consultant
Admin
The platform can also be used to select a particular lawyer and schedule a consultation with them. Based on the lawyer's availability, the users can choose a date and time for consultation. There is also a central figure (the admin) who can manage the entire website/platform and also has the flexibility to implement large-scale processes efficiently and effectively.
Workflow of an Online Legal Consultation Platform
In a conventional legal consultation system, the invested hours took precedence over user satisfaction an retention. There was a one-sided approach as what is best for the client was decided by the legal consultant or the law firm. The amount of time required left the client with little to no room for better or less expensive options.
However, with globalization and digitalization, clients can now choose a legal consultant based on the area of specialization, hourly budget and more. This has aided the clients in gaining better control over their legal needs. In this section, we explain the workflow of an online legal consultation platform based on the user-types. Also, a separate interface for all (user types) is designed to maximize the user experience.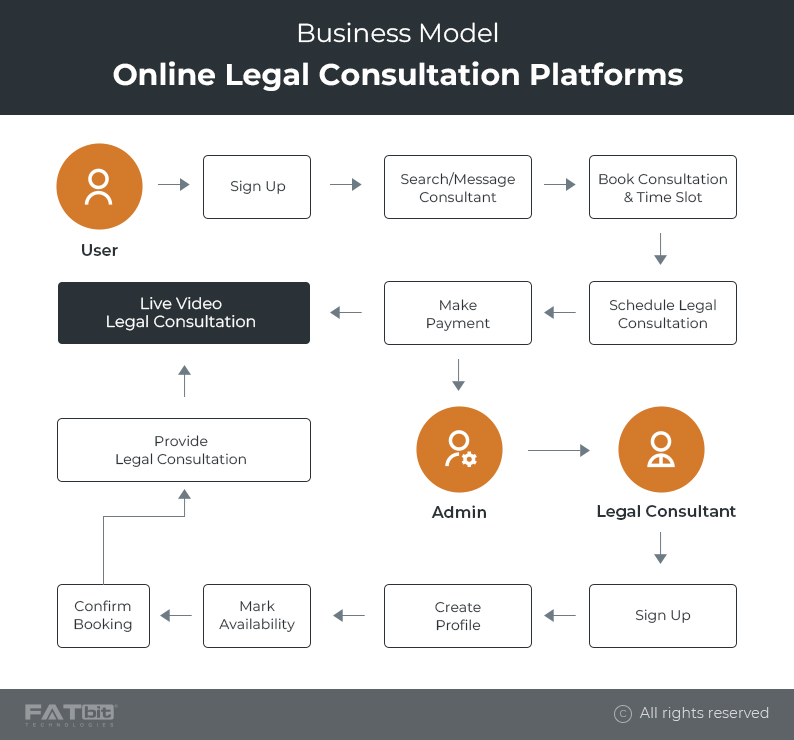 End User Workflow – Clients
Clients sign up by entering their details.
After signing in, the clients explore the platform and search for legal consultants using parameters such as specialty, fees, location, and more.
Then clients choose a legal consultant as per the availability, book a consultation, and make the payment
Based on the legal consultant's availability, the client receives the consultation via secure digital channels such as chat, video or audio calls that are encrypted. This is to ensure that the client and attorney privileged information is protected.
If the lawyer does not accept the consultation request, the booking amount is reversed.
Legal Consultants Workflow
Legal consultants register on the platform by entering their details.
The admin validates the registration.
The legal consultants can highlight their services via ads, ratings, reviews and so on.
If a client sends a booking request, the consultant can accept or reject it based on their availability.
If accepted, post consultation, the legal consultant receives the payment from admin after the commission is deducted.
Monetization Opportunities in an Online Legal Consultation Platform
Over a period of time, traditional law firms have been inaccessible to a large contingent of businesses and individuals. This was primarily due to the steep price point. However, online legal consultation platforms can help legal consultants to offer their services at competitive rates as law firms do not need to be a middleman.
This makes the legal services a whole lot more affordable but the question remains if the services available are at cost-effective rates, then how does an online legal consultation platform earn money? In this section, we understand the monetization opportunities in an online legal consultation platform.
Commission Based on Bookings
This is a traditional method to generate revenue from an online legal consultation platform as it acts as an intermediary between clients and legal consultants. Based on the number of bookings the admin can enjoy lucrative revenue.
Membership
The platform owner can charge a certain amount of membership fees from both lawyers and clients. The fees can either be charged monthly, half-yearly, or annually.
Advertisements
This is one of the most popular monetization strategies in which the platform owners can earn money by displaying advertisements or commercials for related services and products on the consultation platform. In return, the admin can charge a specific amount of money for displaying these ads and commercials. If the advertisers want to appear in prominent sections/areas of a website/platform then an additional amount can be charged.
Sponsored Listings
This is another popular monetization technique where a few independent lawyers can opt for sponsored listings, i.e. they can pay a specific amount of money to get highlighted on the website or appear at the top of the search results for a certain period. This boosts visibility and most lawyers are willing to pay for these listings.
Looking to take a more client-oriented approach towards virtual legal consultation?
Why Invest in An Online Legal Consultation Platform?
The Legal Services Industry is Booming
Online lawyer consultation platforms are a part of a fast-growing industry and globalization is the most important factor in determining the legal service market's prospects. Moreover, with digitization and the use of automation software for legal services, multinational clients are being served. As per research, the market size of global legal services was valued at USD 849.28 billion in 2020. Further, it is expected to expand at a compound annual growth rate (CAGR) of 4.4% from 2021 to 2028.
Online Presence Means Wider Reach
Having an online legal consultation platform means that you can give advocates a platform to give virtual consultations to clients remotely. Being able to work from anywhere in the world makes them more available to clients. As a result, your legal consultation platform will become more efficient with higher conversion rates. Also, according to Google's Legal Services Study, 74% of people who visit online for legal consultation, are willing to take action.
Leading Online Legal Consultation Services Providers
| Sr. No. | Platform Name | Founded In | Country | Revenue |
| --- | --- | --- | --- | --- |
| 1 | LegalMatch | November 1999 | USA | $555.2 M per year |
| 2 | LegalZoom | March 2001 | USA | $75.1M per year |
| 3 | Rocket Lawyer | August 2008 | USA | $63 M per year |
| 4 | UpCounsel | August 2012 | USA | $3.7 M per year |
LegalMatch- LegalMatch is an online legal service platform that helps you in finding an attorney near you. These lawyers can assist you with cases like real estate, immigration, bankruptcy, criminal defense, and many more.
LegalZoom- This is the most diverse online legal service provider as it offers its customers a lawyer network, in addition to do-it-yourself documents. Known for its services in intellectual property (IP), LegalZoom can also accommodate your professional, personal and business needs.
Rocket Lawyer- As the name suggests, Rocket Lawyer gives you a variety of ways to quickly access attorneys who can review your legal documents, and answer questions including a wide range of topics like employment law, real estate, family law, criminal law, and more.
UpCounsel- Provides a screened network of lawyers to big brands and companies so that they can receive quick legal expertise with confronting issues like contracts, stock options, trademarks or patents.
An Online Lawyer Consultation Platform – How to Get Started?
A digital legal service marketplace is reengineering the way legal services are delivered to clients by democratizing the legal industry. So an online lawyer consultation platform can be started by the following 3 steps:
Competitor Research
Have a Business Plan
Start Your Platform
Competitor Research
The online legal consultation market is growing and as customers are transitioning to online channels for virtual advocate consultation, it is important to conduct in-depth market research. A few aspects to consider are:
Who are your competitors?
What is it that the customers like about them?
How can you plan a legal consultation platform that provides better features and functionality than them?
Once you are aware of your competitors, it will provide you with a good outlook on your target audience and can help you in charting a roadmap for your online lawyer consultation platform.
Have a Business Plan
At a stage when you have done the competitor analysis and have defined the target audience, then there must be a clear business strategy for your online legal services platform. Comprehensive research and improvisation will be the key to having a well-defined business plan. This could be having a platform for your business from where you can reach out to your target audience conveniently. Additionally, you can establish prices for providing services through your platform as it will be a revenue-generating source.
Setting Up Your Online Legal Consultation Platform
Once the blueprint of your platform is ready, it is time to bring it to life. You can choose a readymade online consultation software, like Yo!Coach, that can help you in setting up your online legal consultation platform in less time.
Pivotal Features to Have In an Online Legal Consultation Platform (Lawyer Panel, Client Panel, Admin Panel)
An online legal consultation platform should be built carefully with the right set of features and functionalities. Highlighted below are the most important features to have in an online lawyer consultation platform.
Admin Panel
Dashboard
Manage Sessions
Manage Services
Manage Users
Manage Settings
Manage Scheduled Bookings
Lawyer Panel
Sign in/Sign Up
Accept/Reject Job Request
Get Booking Location
Mark When A Job Has Started
Get Booking Notification
Booking History Calendar
Earnings
User Panel
Sign Up/Login
Create Profile
Book Now/Schedule Later
Confirm Booking
Send Request
See Booking History
Select Category-Sub Category
Lawyer Details
Check/Update Status
Track Lawyer
Pay Online
Other Important Platform Features
User Authentication
Appointment Booking
Video Conferencing
In-App Chat and Calling
Document Management and Scanner
In-App Navigation
CRM and CMS Integration
Multiple Payment Gateways
Feedback and Rating
Explore new territory in the Online Legal Services Arena
How Can FATbit Technologies Help in Starting Your Own Legal Consultation Platform?
At FATbit Technologies we have a lot of experience (since 2004) in building consultation platforms and have empowered 200+ businesses in 40+ countries through our online consultation and tutoring software Yo!Coach. It is our flagship product which is versatile in nature and encapsulates an array of features so that entrepreneurs can launch their online legal consultation platform with ease. Through trust and reliability, Yo!Coach has been serving numerous clients across the world.
Main Features of Yo!Coach:
100% White Label
Fully Customizable
Highly Scalable
GDPR Compliant
Pre-Integrated with Video Conferencing APIs
Supports Multiple Payment Gateways
The Legal Rooms – Powered by Yo!Coach
It is worth mentioning that, a UAE based online platform that helps connect legal consultants with their prospective clients, The Legal Rooms, was built with Yo!Coach. Our client requested a personalized demo to see how aligned the requirements were with the online tutoring and consultation software. As it turned out, they were very aligned. Both one to one and group video-conferencing modules synched perfectly. Furthermore, the platform was tailored as per the requirements of the client.
Build lasting customer connections with Yo!Coach Online Consultation Software
Conclusion
In today's rapidly evolving notion of the marketplace, change is a necessity, and ignoring the necessity makes the transition much harder. Industry specialists who are pragmatic, tech-savvy, and can offer more than traditional legal advice are in demand. While offline legal consulting has usually been preferred by clients, the year 2020 has changed the said tide.
The market size of online legal services in 2020 reached a value of $8.5 billion in 2020 as compared to the $68 billion USD of its traditional counterpart and is expected to grow a further 3.9 percent in 2022. So if you are looking to build an online legal consultation platform, now is the right time. It will not only help you to gain more customers but will also aid in building more credibility.