Last Updated: 10th August, 2023
As the uptake of online learning is surging in popularity for the last few years, the industry is expected to grow above a CAGR of 17.54% and is anticipated to reach over USD 848.12 billion by 2030. The rapid adoption of smartphones, cost-effectiveness, and the convenience offered by online learning are the significant factors driving the acceptance of online tutoring globally.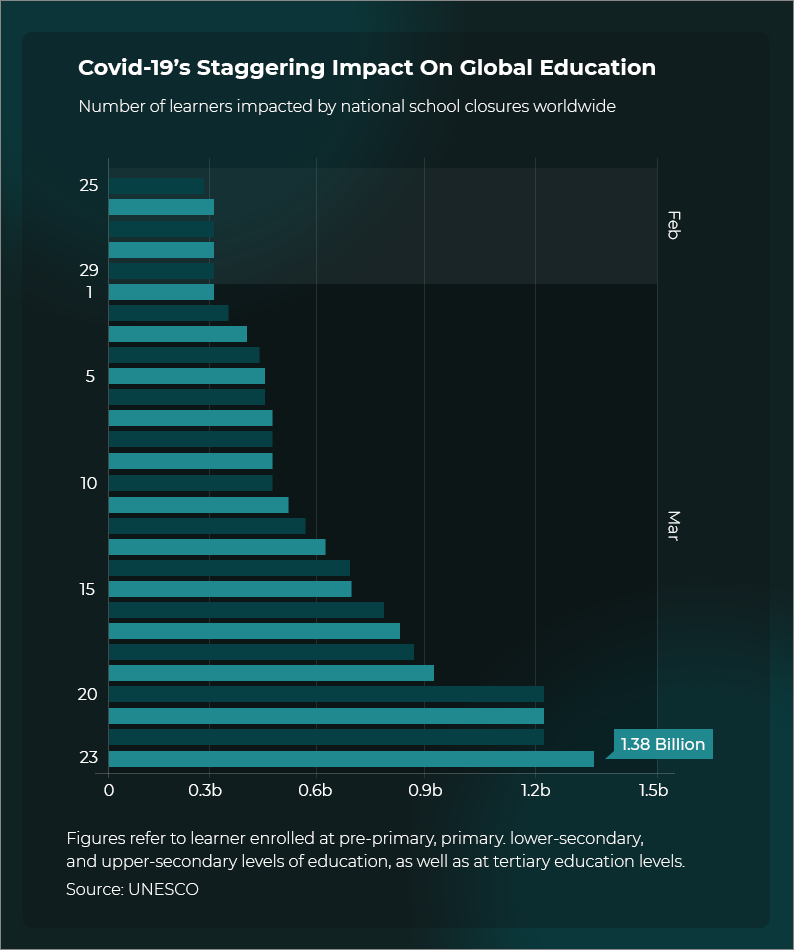 This vigorous growth has encouraged tutoring businesses to become more aggressive and targeted with their expansion strategy and cater to a wider customer base while bringing in larger revenues. Traditional tutoring businesses across the globe need to pivot their business to an online model and the businesses already operating online need to expand their services to take advantage of this furious demand.
Fail-Safe Expansion Strategy – Moving Online
The first and foremost requisite of expanding tutoring businesses is to switch online. Offline tutoring businesses have limited reach and opportunities and are unable to cater to students far off from their physical location. This limits the number of students to be catered and eventually the revenue.
Switching online also means your tutoring business is open to expanding the horizon of its revenue channels. In addition to the fees from students for online sessions, one can incorporate subscription plans on the website for users, add a premium listing section for tutors, place third-party ads, and many more.
Yo!Coach – Best Readymade Solution to Launch and Expand Online Tutoring Business
Yo!Coach is a readymade solution to build and launch an online tutoring marketplace. This versatile solution is capable of meeting all the essential requirements of a tutoring business. The customizability and scalability of this off-the-shelf software make sure the business owners can customize their tutoring platform as per the evolving advancements in technology and the market.
How has Yo!Coach Helped Existing Tutoring Businesses Expand Their Offerings
Being an adaptive tutoring solution, Yo!Coach is compatible with various business niches and models. The repository of exciting features in Yo!Coach has helped a number of tutoring businesses explore their territory and expand their services. Let's have a look at some of them.
1. Trusity
Trusity, a learning management platform, was launched to provide end-to-end solutions for students, teachers, parents, and schools. With an aim to empower learners worldwide, it offers curriculum-based Learning Support, Conceptual Learning, Skill Development, and Competitive Exam guidance. The integration of Yo!Coach in Trusity enabled interactive one-to-one sessions between students and teachers.
2. Simbi
Simbi is a brand that inspires people to read and improve their reading skills. With a mission to make reading more meaningful, it partnered with various schools and helped students improve their reading skills. However, as the pandemic hit, Simbi could not deliver physical classroom sessions and intended to shift online for reading sessions.
Yo!Coach played an instrumental role in Simbi's transformation to an online reading platform. Simbi, now with the help of Yo!Coach, is able to deliver online group reading sessions for the students. The platform has already attracted a number of students on its online platform and is growing significantly.
3. Helpist
Helpist is a popular online platform offering diverse courses ranging from software development, to finance & accounting, to business development. This platform has been launched by Yo!Coach only and was driving good results. However, the platform owner wanted to upgrade the platform with the latest technology and functionality.
Yo!Coach's latest version was integrated seamlessly without causing any downtime. With the latest functionality, they were able to expand their services, reach wide learners, and could increase their revenue.
4. Learnege
Learnege was an offline tutoring business that offered language learning and other subject/skill specialization to the learners. Seeing the massive demand for online learning, Learnege considered moving online. Yo!Coach helped Learnege to fulfill its dream of expanding the business and tutoring online.
With features like screen sharing, flashcards, language translation, whiteboard, etc., Learnege is now delivering an immersive learning experience and catering to students all over the globe.
5. WTutors
WTutors was also an offline tutoring business offering learning and skill improvement opportunities to the students. Although the founder wanted to have global tutors onboard, it was not financially viable for an offline business. That's where the idea of moving online struck his mind. Yo!Coach became the ideal readymade solution to help him realize this idea.
WTutors now connects students and tutors from all across the globe for live video sessions. In addition to this, WTutors has expanded its tutoring services to many other niches like language learning, legal consultation, music learning, and even offers preparation for competitive exams.
6. Codelang
Codelang is a unique learning platform offering programming courses in 50+programming languages. It is a community of global learners where programming students are connected with teachers in 1-to-1 online sessions.
Codelang was initially launched by Yo!Coach and was working successfully. This platform was able to attract coding enthusiasts around the world. Codelang wanted to expand their suite of features, hence, intended to upgrade to the latest version of Yo!Coach.
With upgraded features they were able to expand their services and better cater to the needs of learners. Yo!Coach empowered them in creating personalized sessions and in offering interactive tools and an engaging learning environment.
Become the Next Player of the Online Tutoring Industry
Why is Yo!Coach Better Than Other Online Tutoring Software
As Yo!Coach is equipped with a huge repository of essential features required for online tutoring, it has become the preferred software for launching a tutoring marketplace. Let's have a look at the points of difference that make it better than other popular tutoring software.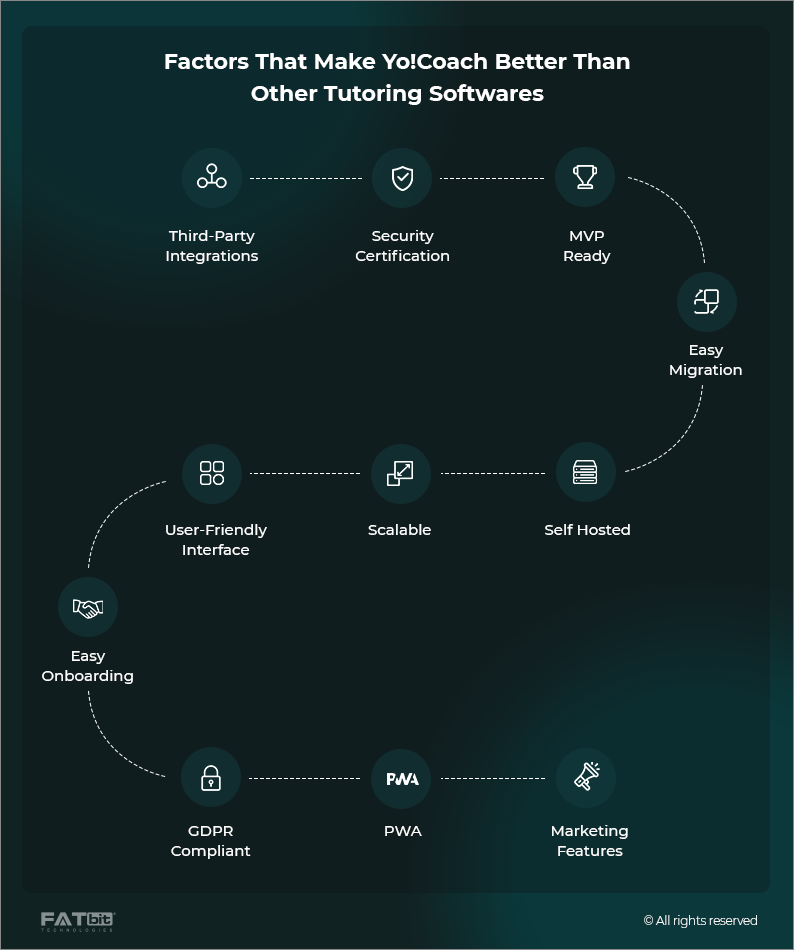 Bichronous Learning
Yo!Coach is a versatile software that caters to both synchronous and asynchronous learning models. Offer self-paced courses on your platform allowing students to learn at their own convenience or let them attend live sessions with real-time interactions. Yo!Coach can easily accommodate both options for the tutoring marketplace.
With advanced functionality, Yo!Coach allows business owners to set up the platform for both modes of learning with just a few clicks. Moreover, diverse learning options can help your tutoring platform in reaching out to a wider target audience.
Third-Party Integrations
Yo!Coach is integrated with a number of leading-edge third-party APIs to keep the tutoring marketplaces sustaining in this competitive environment. From payment gateways to video conferencing APIs, they offer better user experiences without increasing the complexity of the system at all. The marketing APIs in Yo!Coach helps the tutoring platforms increase and improve their brand presence.
Security Certification
Securing a website using an SSL has become compulsory in today's age, where hackers are always lurking around. Yo!Coach comes with an SSL certificate to accomplish the two most significant security requirements – Authentication & Encryption. Along with protecting the user data using encryption, an SSL certificate protects the privacy of the users on your tutoring platform, eventually improving the user's overall experience.
MVP Ready
Yo!Coach is an MVP-ready software and can be used to launch a tutoring platform as soon as you want. Using an MVP process to launch a tutoring platform with Yo!Coach is recommended as it not only tests the viability of the platform but you also get time to add more features based on users' feedback and evolve into a mature platform.
Easy Migration
It is extremely easy for the existing businesses to migrate to Yo!Coach from their existing software. Yo!Coach is an excellent medium for businesses running on old and obsolete technologies to gain a competitive edge. The migration is possible in a short timeframe with minimum complexity which won't disrupt the business operations at all.
Self Hosted
Yo!Coach is a self-hosted software that gives you independence and long-term planning reliability. You have full control over your data and no other party has access to it. Furthermore, you have full control over the tutoring platform and can personalize it however you want.
Scalable
As it is absolutely vital to grow and expand your tutoring business along the line, Yo!Coach is capable of scaling your tutoring platform while keeping good quality, usability, and flexibility. The tutoring platforms built using Yo!Coach have the means to adapt to the changing and expanding needs of their tutoring business.
User-Friendly Interface
Yo!Coach helps to build tutoring platforms that are easy to access. Every user can easily access the functions and resources instead of having to stumble through a dashboard that is disorganized and cluttered with unnecessary graphics. Yo!Coach makes accessibility a high priority so that every user can concentrate on tutoring and learning.
Easy Onboarding
Onboarding is often a challenge. Yo!Coach makes it a smooth and excellent process for the users to get more out of the tutoring platform and stay ahead of questions. The easy and quick onboarding on your tutoring platform results in fewer queries from the support team and more time for other valuable tasks.
GDPR Compliant
The GDPR's requirements are significant and Yo!Coach team has worked hard to fully meet and comply with them. You can assure your users for safeguarding their personal and confidential information against inappropriate disclosures and accessible to those who are authorized to access it.
PWA
Yo!Coach understands that a huge amount of internet traffic comes from mobile devices, and websites are now less preferred by the learners. Therefore, Yo!Coach now also supports PWA that uses modern web capabilities and helps in delivering your online sessions on the mobile device providing an app-like experience to the users.
Marketing Features
All the time and effort that goes into building and launching an online tutoring platform will be for nothing if there are no users. Yo!Coach comes with in-built marketing features that help your tutoring platform to get marketed easily and attract users.
Client Goodwill
Don't take the words but hear it from their clients, and Yo!Coach' clients always vouch for them. By offering client-centric services they have built commendable goodwill and relationships with their clients.
Yo!Coach has served global clientele from various niches within the tutoring industry. Positive client testimonials and reviews showcased on their website are a testament to the unwavering support and services they offer to their clients. Explore our client reviews & testimonials where the real stories of businesses transformed by Yo! Coach comes to life.
Still have queries on how to move online with your tutoring business?
Final Words
Building an online tutoring marketplace might seem easy, but it requires quite a lot of effort and time. Yo!Coach is a readymade solution that can be used to build a feature-rich and easy-to-use online tutoring marketplace. With one-time cost, which also includes initial installation fees, it can be used for a lifetime.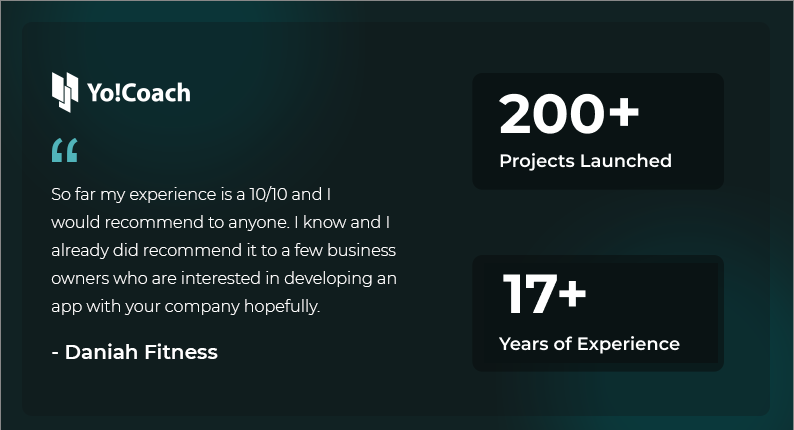 To ensure a smooth operation of the business, Yo!Coach also comes with technical support for 1 year. With all the essential features and functionality pre-integrated into it, Yo!Coach is capable of efficiently catering to the online tutoring business and many other niches.