As the trend of online tutoring is increasing expeditiously, entrepreneurs are keen to launch tutoring platforms to accommodate this growing need. The market is flooded with a number of readymade tutoring software and selecting one for your business is quite tricky and complicated.
With the intent to simplify the tutoring software selection process, we tried to compile a list of top online tutoring software to help aspiring entrepreneurs start their tutoring venture:
Yo!Coach is a ready-made software to build online tutoring and consultation marketplaces. The software is capable enough to meet the varied requirements of online learning businesses and manages all the troublesome tasks in an easy and efficient manner. This fully customizable software comes integrated with an array of features that empower its users with their constantly evolving needs.
This white label software comes with lifetime ownership without any recurring fees. In addition to online tutoring, this versatile software is also compatible with several other niches like language learning, music learning, personality development, medical consultation, culinary coaching, fitness coaching, legal consultation, dance learning, art training, code training, sports coaching, acting training, and many more. The software is integrated with the popular and essential APIs to sustain in this competitive market.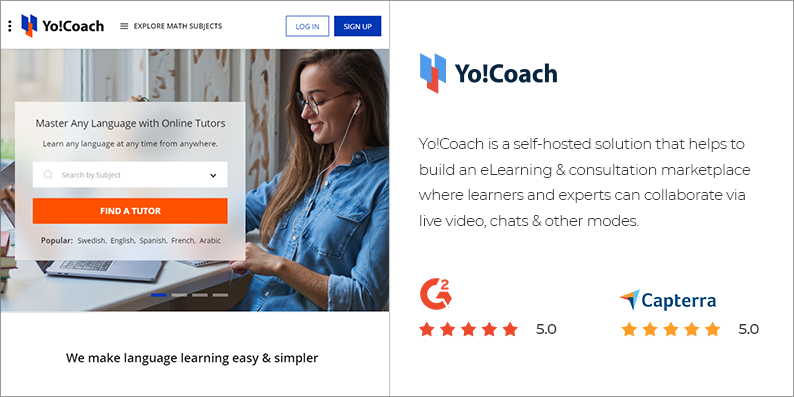 Features
Audio/video chat
Virtual whiteboard
Textpad
Screen sharing/recording
One-to-one/group class
Flashcards
Code editor
Language translation
Multilingual
Multicurrency
Time-zone specific
Gift cards & coupons
Reviews/ratings
Pros
Pre-integrated video conferencing APIs (Zoom, Lessonspace, and Cometchat ).
Multiple payment gateways are integrated like Paypal, Stripe, Authorize.net, and many more.
Auto-detection of time zone and users' default language
White label solution
No recurring fees
Enhanced marketing and reporting capabilities.
Scalable and customizable framework
Cons
Currency conversion is manual in this system.
No free trial available for this software
Want to know more about Yo!Coach?
TutorCruncher is a cloud-based software designed to manage and grow your business. From small teams to market leaders, it helps to manage sales, sessions, tutors, students, communication, and much more. The software is best suited for both small and large enterprises to manage and grow their online tutoring business.
The E-invoicing platform in the software is integrated with card payment systems to facilitate online payment of classes. Custom lesson reports can also be created using TutorCruncher to give regular feedback to students after each lesson. Since the software considers tutors' performance just as important, it tracks their performance by encouraging the students to rate their performance.
The software claims to offer a secure platform for the tutoring business and makes the website SEO friendly. TutorCruncher is also available as a fully functional trial version for 14 days.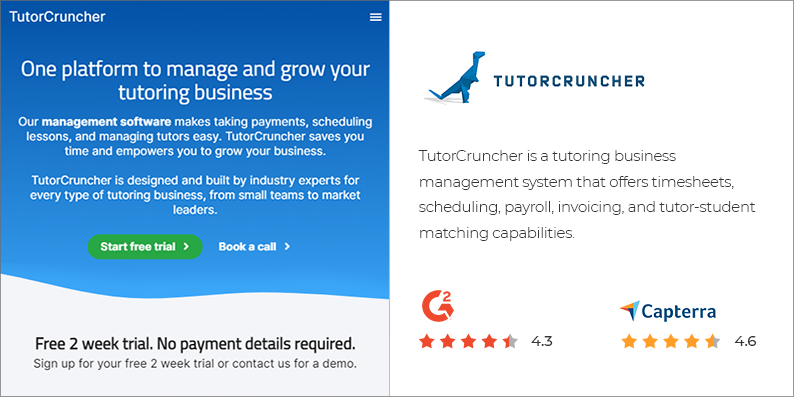 Features
Audio/video chat
Digital whiteboard
Lesson scheduling/recording
Payment gateways to receive and disburse payments
Attendance management
Confirmations/reminders
Lesson notes
Parent/Student portal
Pros
Online lesson URLs are automatically sent to participants with lesson reminder emails
Multiple franchises under a single account can expand nationally and internationally
Cons
UX design is a bit confusing
The message translation is not automatic
Customer support is for only the first 3 months
Limited number of APIs integrated for video conferencing and payment gateways
Recurring Fees
The software is not White Label
myTutoring is a complete online live learning software that comprises of everything required for a successful online tutoring business. The software understands the value of branding and therefore, provides the same footing as the best companies in the industry. It does not require any upfront investment and has a "pay as you use model".
Without any limit on the number of tutors, students, sessions, courses, and course fees, myTutoring allows students to be with them for as long as they want. One of the most lucrative features of the software is that it is easy to set up.
Its ability to seamlessly integrate everything from the discovery of tutors, scheduling sessions, collection and disbursement of payments, audio/video collaboration makes it the preferred choice of the business owners.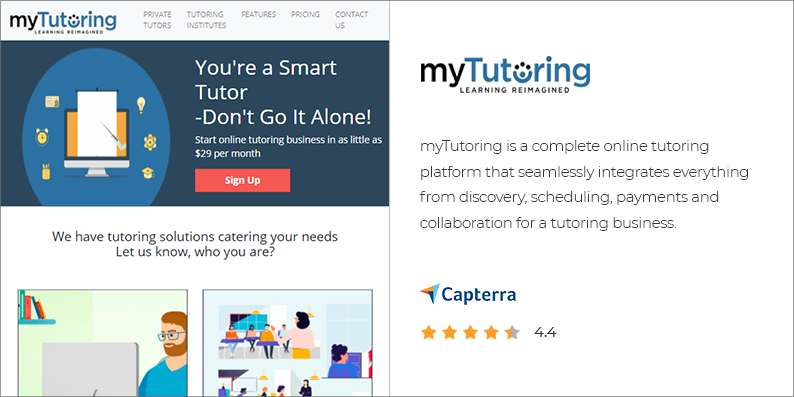 Features
Mobile ready software
Availability calendar
Digital whiteboard
One-to-one/group tutoring
Whiteboard & live session recording
Integrated payment gateways, invoices, and transaction history
Emails and SMSs for booked sessions, payment confirmation, and more
Pros
Smart discovery matches the students with their best-suited teachers as per the details provided by both of them
Automatic notifications for optimal time management
Cons
Cannot upload documents
No tool to assess the performance of the platform
The customization options are quite limited with no functionality changes possible
Limited payment gateways integrated
Recurring fees
WizIQ is a cloud-based learning delivery software with a suite of features like virtual classrooms, content authoring, tests/assessments, mobile learning, course management, video streaming, analytics, and much more. It empowers instructors, education service providers, and corporates to deliver live and self-paced online tutoring with scalable and cost-effective technology. It has inbuilt templates which help to create online courses within minutes.
One does not need any coding knowledge and additional software extension to operate WizIQ.
Features
Analytics to track teaching performance and student's progress
eCommerce platform to sell online courses
HD video conferencing with real-time messaging
Creation of online multimedia tests and assessments in 9 formats
eLearning content on-the-go with WizIQ mobile and tablet application
Pros
Sell live and self-paced online courses
Mobile apps for android and iOS devices
Automated reports for record-keeping
Create online tests in multiple formats
Cons
Not fully customizable
You cannot scaleup the platform using the software
Source code is not provided
Recurring fees
Limited payment gateways integrated
Live session recording functionality is limited
Pinlearn is a self-hosted tutoring marketplace software that helps entrepreneurs and tutors to set up their own schools like Coursera, Udemy, Khan Academy, etc. The software is easy to maintain and assures lifetime upgrades. With a complete suite of apps, Web, Admin backend, Android, and iOS, it boosts the userbase of the platform built to a great extent.
Admin can add subjects and courses for the tutors to create and sell the self-paced courses to students. The addition of the group class feature along with the one-to-one classes on the platform enables tutors to multiply their income. Pinlearn comes with 100% open and unencrypted source code for the complete ownership of the platform without any dependency on them.
The business owner can overhaul the complete look and feel of the platform for a unique business identity. Moreover, any further development of adding, deleting, and modifying can also be done by yourself or a developer.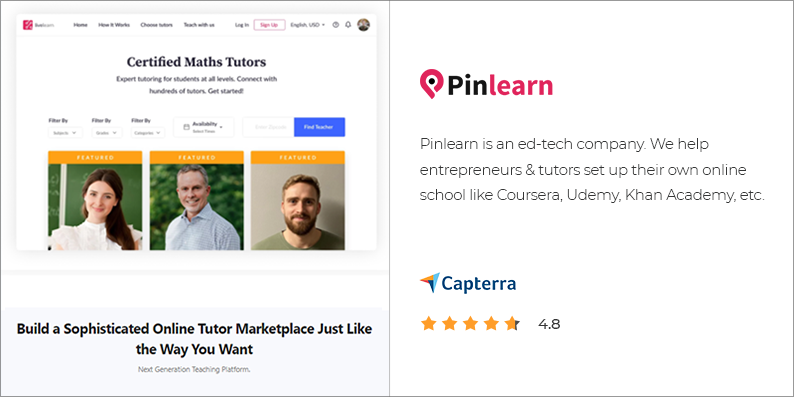 Features
Create and sell courses
Upload courses in multiple formats
Admin and tutor dashboards with analytics
Multiple Monetization Channels
In-built payment gateways
Pros
Compatible with Desktop (Windows, Macintosh) & Mobile
Multilingual
Customizable
No recurring payment
Customer support is available on the phone, chat, and email
Cons
UI/UX of software is poor for Admin, Tutor, and Student panel
Limited number of APIs integrated for video conferencing and payment gateways
Not GDPR Compliant for data privacy and security
Limited SEO Friendly Features
Does not have PWA
Learnyst offers an end-to-end solution for building unique online tutoring platforms. It has ready-made templates to start building tutoring websites where one can upload courses, videos, quizzes, presentations, blogs, or documents. Business owners can also sell courses online to have a permanent source of revenue. With a suite of features, the software comes with Web, Android, and iOS apps to make online tutoring more user-friendly. The software helps to engage students in real-time with live classes and chat.
Learnyst has world-class encryption to safeguard the content uploaded on the platform. Tutors can create mock tests for all the major competitive examinations and can evaluate the answer sheets digitally. Students can also use the mobile app on the go and keep themselves busy.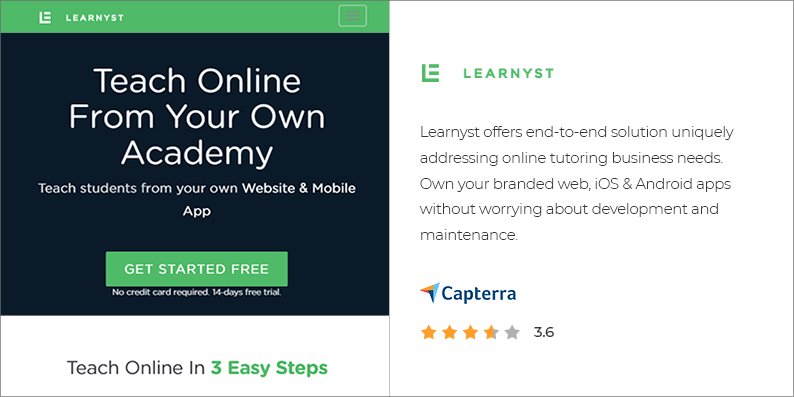 Features
Free trial lessons can be offered to students to entice and motivate them to become loyal customers
The webpages built on Learnyst are search engine optimized which will rank comparatively higher in Google
Advanced filters to find relevant information according to custom tags provided by you
Sub-admins to manage courses and platforms as the business scales
Transcoding the source video into high and low formats depending upon the student's internet speed
Pros
Content security with watermarking and encryption
Unlimited number of courses and mock tests
Pre-built themes for eLearning platforms
Cons
Huge data consumption
The solution is not fully customizable
It is not GDPR Compliant
Teachworks is software that helps education businesses simplify, automate and grow their business. The multiple calendar views help in managing complex schedules, mark availability, and check scheduling conflicts. The software also provides data to analyze and generate reports to get insights into the business. Unique features like automatic lesson reminders, email lesson notes, notifications of new invoices, and payments in Teachworks are designed specifically for this industry.
There are a number of add-ons and integrations added in the software to expand its capabilities. The tools to manage and monitor multiple branches from a single master account are also possible through Teachworks.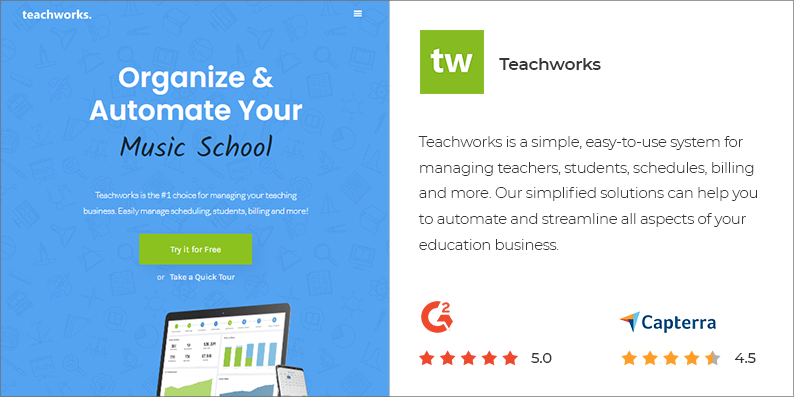 Features
Simplifies the scheduling challenge smoothly
Easy user access for every type of user to easily access their calendar, history, invoices, and much more
Reduce no show-offs and confusion with automatic email reminders
Cancellation emails when a lesson is canceled
Pros
Master account to create and manage multiple accounts
Six different calendar views for simplifying the scheduling process
Allows customizing the account settings, integrations, and add-ons
Cons
No integration with social media
No live technical support (only email)
Only has stripe as pre-integrated payment gateway
Teachworks is not 100% white-label
Recurring Fee
TutorBird is a tutor management software for private tutors, tutoring centers, and test prep centers to help them manage students, schedule, billing, online tutoring, and much more. The software supports the business of both single and multiple tutors saving a huge amount of time and effort. Compatible for computers, tablets, and even mobile devices, all its features are accessible on the go. This flexible software has all the features specific to running a successful tutoring business.
TutorBird is quite an adaptable software that facilitates the unique needs of different tutoring businesses. The software claims to be intuitive and easy to use across all devices. Moreover, being a scalable software, it can easily accommodate the growing demands of businesses.
Features
Payroll management automatically calculates the amount tutors owe
Management of users' permission as per their responsibilities
Generate business reports and spreadsheets in PDF and XSL
Flexible invoicing options according to per lesson, semester, week, month, or year
Pros
Designed for both single and multi-tutor business
Free 30-day trial
Search engine optimized webpages
Lesson recording
Cons
No online whiteboard
Mobile apps missing
The software is not white-label
The software is not fully customizable
Final Thoughts
These are the top tutoring software available in the market which are highly popular and up to the mark. Launching a tutoring business with any of them is rather simple. Entrepreneurs can read about them in detail and select the one that fulfills their requirements in the best way. It is recommended to avail a free trial or schedule a personalized demo to get a more clear idea before making the final call.