In today's rapidly evolving education industry, where virtual learning is becoming the norm, tutoring platforms must be versatile, user-friendly, and equipped with robust tools. Therefore, choosing the right software to establish a successful online tutoring business becomes pivotal.
One such reliable software option available in the industry is Yo!Coach. It has become a cornerstone for entrepreneurs striving to establish and grow their businesses in the last few years. As its popularity continues to grow, several entrepreneurs across the globe are opting for this software. In this blog post, let's explore the myriad of reasons that prove Yo!Coach is an ideal choice, and stands above its competitors.
Software Capabilities
1. White-Label
Yo!Coach is a white-label software that allows you to fully customize your platform with your own branding elements. Add visuals, text, icons, themes, and more as per your brand identity and requirements.
Also, as white-label software is an off-the-shelf product with pre-built functionality, it saves a lot of your time, money, and effort.
2. Customizable
Our fully customizable software makes it easy for business owners to implement their business ideas effectively. Any customizations related to UX/UI, design, payment gateway integration, latest features, and more can be easily implemented by Yo!Coach team.
3. Self-Hosted Software
Yo!Coach is a popular self-hosted software available in the industry. We provide full freedom to our clients to choose the hosting server of their choice. It could be on-premise, or via third-party hosting providers.
4. High Scalability
It is very crucial to opt for software that can adapt as your business grows in the coming future. Yo!Coach being a highly scalable software puts no restriction on the number of learners you onboard on your platform. Its robust architecture is capable of handling a rising number of users and maintaining its performance even after the workload increases.
5. Source Code Ownership
The eLearning industry is dynamic and to gain success in this landscape, consistent enhancements in your platform are inevitable. To reduce the dependability on the solution provider we provide ownership of the source code so that you can stay in control of your software over the long-term.
Want To Launch A Tutoring Platform With Full Source Code Ownership?
6. No Recurring Fee
Unlike other eLearning software solutions, Yo!Coach neither charges any repetitive fee be it monthly or yearly nor increases the charges as the number of learners increases on your platform. The cost of the selected package has to be paid once.
7. Lifetime License
Yo!Coach comes with a lifetime license and the clients can use the software for as long as they want by paying only once for it. Additionally, with a lifetime license clients have more control over the platform and its security.
However, in subscription licenses, customers don't have control over the platform. They are majorly dependent on the vendor for their needs and can use their platform till they pay the subscription fee.
8. Powerful Performance
Yo!Coach is a high-performance software with a 100% success rate. With an APDEX score of 0.95, an average load time of 2.75 per second, and 7.39 transactions per second, this software provides a powerful performance. Our quality assurance team has conducted numerous tests to make sure that our software remains the best. Explore key performance stats of Yo!Coach.

9. Progressive Web Apps
Yo!Coach-powered PWAs enable entrepreneurs to offer a smooth mobile experience to their users. Numerous benefits offered by PWAs include better performance, cost-effectiveness and more.
Considering the importance of PWAs for a business, Yo!Coach provides PWA and a competitive edge over other tutoring software.
10. User-Friendly Android and iOS Apps
Mobile apps are extremely important for learners to continue their learning journey on the go. Yo!Coach provides Android and iOS apps for learners to let them have a seamless learning experience. These intuitive apps are designed to provide maximum convenience to learners and are included with advanced features.
11. Multi-Currency
Currency conversion API pre-integrated with Yo!Coach converts the currency rates automatically as per the global standards.
12. Multilingual Functionality
Cater to the global target audience and break language barriers with multilingual functionality offered by Yo!Coach. Ensure learners can access and communicate on your platform in their preferred language with ease.
13. Social Media Login
Yo!Coach facilitates login with social media credentials. Learners can easily log in with their Facebook, and Google accounts, or with Apple ID.
14. Third-Party Integrations
YoCoach comes pre-integrated with 10+ third-party APIs to offer a competitive edge to our clients and let them deliver an interactive learning experience through the platform. Various essential APIs for payment, lesson interaction & delivery, statistics, and others come pre-integrated with our software.
15. Possible Revenue Streams
An Effective monetization strategy is very important for the sustainable growth of any business. Yo!Coach supports diverse revenue stream such as commissions. Some other possible revenue streams are subscriptions, certifications, advertisements, listing fees, class packages and more.
16. GDPR Compliance
In this era security holds paramount importance and ensuring the privacy of the users on your platform is crucial. Yo!Coach being GDPR compliant abides by the rules and regulations and keeps the user's data secure.
17. Multiple Payment Methods
Multiple payment methods offer convenience and drive customer conversion. With Yo!Coach, serve your global clientele with much ease, and offer various payment options such as wallet, bank transfer, credit/debit card payment, and more.
The software comes pre-integrated with various popular payment gateways such as Authorize.Net, PayGate, PayPal, Stripe, and more.
18. With Yo!Coach No Requirement of Addons
We take pride in offering meticulously tailored software that eliminates the need for addons. Our software is carefully crafted keeping in mind the needs of startups, small businesses, and even mid to large-scale enterprises. Every package offered by Yo!Coach ensures you get everything you need.
Stay Ahead of the Competition with Our Proven Software
19. Software Upgradations
To stay ahead of the competition, we release timely updates of Yo!Coach. With each release, we continue to introduce new features, enhance existing features, and optimize system performance.
Suggested read: Yo!Coach's Journey From V2.1 to V4.1
20. Perfect for Different Sizes of Businesses
Yo!Coach's adaptable framework can seamlessly cater to the requirements of different business sizes ranging from small & mid-range startups to large enterprises. This software offers versatile functionality ensuring that enterprises can leverage the platform's capabilities in a manner that suits their needs, business goals, and growth trajectory.
21. Support Diverse Business Models
Entrepreneurs with distinct business model ideas and unique requirements can undoubtedly rely on Yo!Coach. This reliable software can accommodate a wide range of business models with its advanced functionality.
Yo!Coach has already helped several entrepreneurs establish their businesses with diverse business models and is capable of catering to any unique or different business model idea present in the industry.
Some of the popular business models catered by Yo!Coach includes:
One-to-One Tutoring
Group Tutoring
Live Courses
Pre-recorded Courses
Enterprises eLearning
Industry Specific Features
22. Bichronous learning (Live Sessions Based & Course Based)
Yo!Coach is a versatile software and offers functionality to cater to both synchronous and asynchronous modes of learning. Offer live one-to-one, group sessions with real-time interaction, or let the students avail of self-paced pre-recorded video lectures. With just a few clicks admin can switch the mode of learning on the platform.
23. One-to-One Sessions
Offer a personalized learning experience on your platform with Yo!Coach software and cater to the needs of the learners seeking one-to-one sessions. Avail advanced functionality of the platform and offer seamless individual classes with interactive tools.
24. Group Sessions
Foster collaborative learning on your platform with Yo!Coach software and offer learners the opportunity to engage with peers and explore topics in an interactive environment via group sessions.
25. Online Courses
With a platform built by Yo!Coach, allows educators on your platform to share a wide range of unlimited, comprehensive online courses. Cater to learners seeking self-paced learning and let tutors create and share engaging content, including video lectures, and more.
By availing Yo!Coach's rich features, efficiently offer online courses on your platform and increase your revenue options.
26. Live Courses
Provide learners on your platform with live courses where tutors can offer classes in groups on your platform. With Yo!Coach's bespoke features and functionality provide an enthralling learning experience. Enable tutors to easily set up live courses through the dashboard.
By offering live courses on your platform, you can not only attract more learners and increase revenue but also set your platform apart in this competitive online education industry.
27. Recording Functionality
Platforms built with Yo!Coach provides users the functionality to record live sessions (via Lessonspace API ), and share them for future reference.
28. Catering to 15+ Niches
Covering a wide array of niches within the eLearning industry, Yo!Coach has served global clientele in more than 15 niches. Yo!Coach's ability to cater to multitudes of various niches makes it an ideal option to connect tutors and learners across various domains. With this software, entrepreneurs can easily tap into unique market niches and cater to the learning needs of their target audience.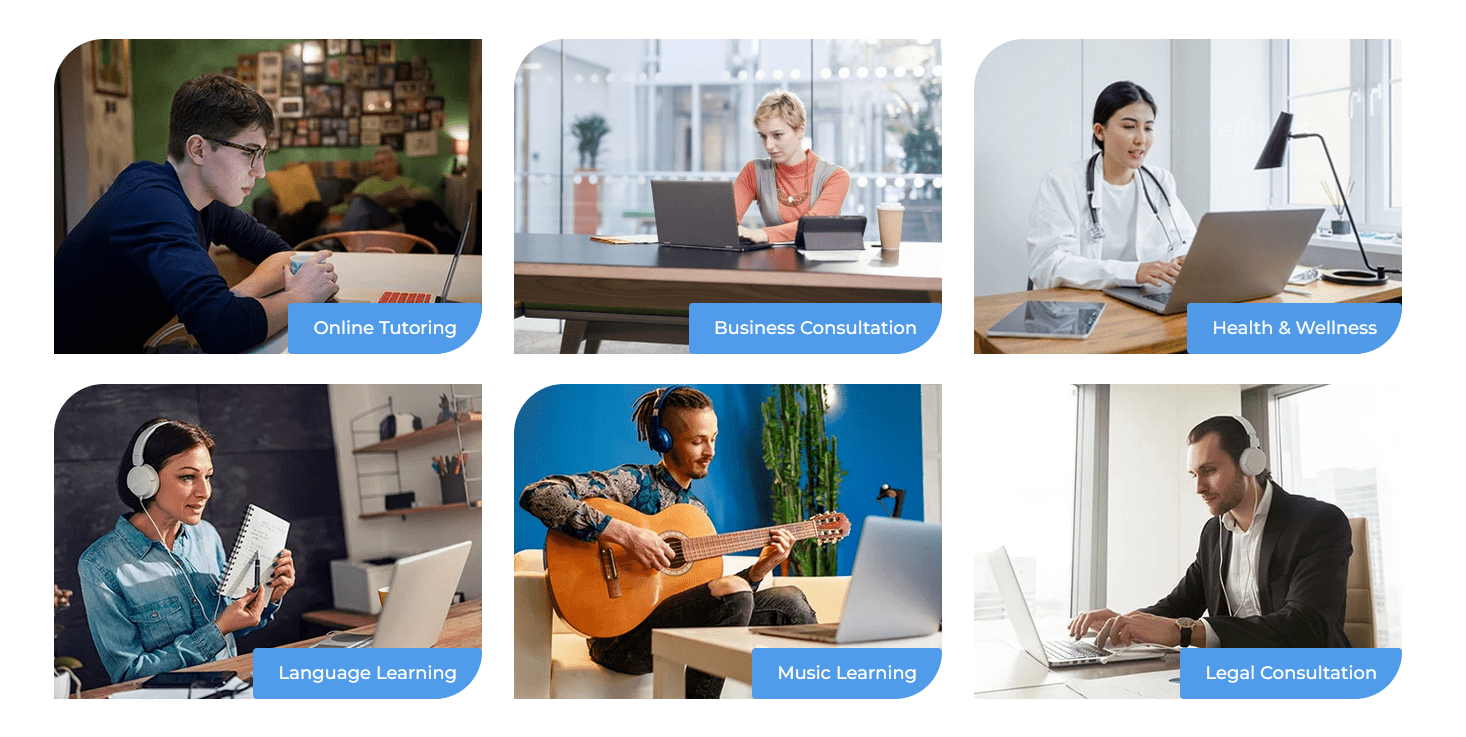 Launch a Niche-Specific Tutoring Platform with Yo!Coach
29. Time Zone Synchronization
The platform, built with Yo!Coach, can help you in crossing geographical boundaries by synchronizing the time zone efficiently. With this functionality, tutors and learners can coordinate and schedule sessions without the constraints of different time zones all around the world. This feature allows you to effectively serve your global audience.
30. Discussion Forum
Enhance the sense of community among learners and tutors by availing Yo!Coach functionality. Implement a discussion forum on your eLearning platform and enable users to view, post, and reply to questions posted in the forum and get their queries resolved through collaboration.
31. Messaging System
To ensure a seamless interaction between tutors and learners Yo!Coach comes pre-built with internal messaging system. This feature allows students to get their queries resolved instantly in real-time with personalized attention.
32. Advanced Video Conferencing Tools
Yo!Coach comes pre-integrated with numerous popular video conferencing applications such as Zoom, Lessonspace, AtomChat, and more for a collaborative learning experience. Entrepreneurs can choose any video conferencing APIs they want to integrate into their platform as per their needs.
33. Interactive Tools for Virtual Classroom
Offer a virtual classroom on your platform with Yo!Coach's advanced functionality. Provide an enriching learning experience to users with interactive features such as a virtual whiteboard, textpad, screen sharing, recording, and more. A rich suite of tools like a highlighter, pen, shapes, and others allows students to have a collaborative classroom experience.
34. Content Management
Manage and organize digital content on your platform with Yo!Coach's robust content management system. Yo!Coach's user-friendly interfaces make it easy for admin to create, edit, and update content on their website. With this module admin can manage home page slides, content pages, content blocks, navigation, video content, testimonials, language labels, FAQs, email templates, and much more.
35. Advanced Search Filters
Enable learners to find the right tutors and courses as per their learning needs with advanced search filter functionality on your platform built by Yo!Coach. Let learners filter out options including teachers' language, availability, accent, gender, price, and more, and book their desired courses conveniently.
36. Tutor Listing
Tutors are the face of any online tutoring platform and presenting them in the best possible way is of utmost importance. With this functionality, the marketplace owner can easily handle the tutors on its platform and can list them effectively showcasing their details such as expertise, experience, qualification, and other essential information.
Additionally, the admin can mark the tutors as featured on the platform to provide them better visibility by charging a fee.
37. User Management
By availing Yo!Coach in-built functionality, admin can manage the profiles of the students and tutors effortlessly. Accept or reject teacher's request, manage tutor ratings and review, and more with just a few clicks.
38. Intuitive User Interface
Navigating through Yo!Coach user interface is very easy. Its user-friendly design is thoughtfully crafted to ensure that learners can effortlessly use the platform and start their learning journey. Additionally, easy-to-use dashboards for admin enable them to streamline their operations and manage revenue & sales effectively.
Whereas, tutors can also use and handle the aspects of teaching on the platform hassle-free through a dedicated dashboard.
Client Support
39. Dedicated Account/Project Managers
To guide our clients through the set-up process, we assign dedicated account and project managers. Our team ensures a smooth and successful launch of your online tutoring platform. We stay connected with our clients through our effective communication tool known as bizixx.
40. Personalized Demo
Our sales representative helps you explore the diverse functionality of the software in a personalized demo. This firsthand experience enables you to understand how Yo!Coach can align with your business requirements and goals. Representatives resolve all your queries and confusions related to the software and assist you in making an informed decision.
Explore the Advanced Suite of Features Offered by Yo!Coach
41. Free Technical Support for One Year
Yo!Coach team ensures your platform works seamlessly and provides free technical support for the first year. Our team works round-the-clock to ensure all our client's queries get resolved at the earliest possible.
42. Multi-Channel Support
Yo!Coach has been in the industry for a very long time and our clients speak highly of us because of our unwavering support. We stay in touch with our clients through multiple channels such as Skype, phone, email, social media, and more.
43. Ticketing System
With our integrated ticketing system we are able to connect clients with our experts and let them share their queries and suggestions related to the platform with ease.
44. Free-Installation
With every package of Yo!Coach we provide free installation services. Our team provides smooth installation, saving a lot of time and effort of our clients.
45. Post-Sales Support
Our commitment to our clients goes beyond the launch of their platform. After the delivery of the project, we provide free post-sales support for up to a certain number of hours.
46. Flexible Payment Plans
Yo!Coach offers flexible payment plans to facilitate business owners and allow them to choose from plans that suit their budget and objectives.
47. Comprehensive Documentation
We provide access to extensive documentation of our product to ensure a seamless experience with our tutoring software. With concise documents, clients leverage the platform effortlessly without any assistance.
48. Educational Content
To provide a fair idea of the working of our product to our clients we have uploaded a plethora of educational content or tutorials on multiple channels. You can access insightful information through video tutorials published on YouTube, read informative blogs, and view online demos to gain a better understanding of our software.
49. Video Tour
Yo!Coach provides a guided walkthrough of the software's components and capabilities through videos. Get an in-depth understanding of the features, functionality, and user interfaces of the software.
Trust and Credibility
50. Satisfied Clients
Yo!Coach has been in the industry for many years and has been recognized by many prominent organizations around the world. Moreover, our clients speak highly of our unwavering services and support, and their video testimonials are a testament to that. Our satisfied clients with their successful business ventures are a driving force behind our commitment to excellence.

51. Trusted by Entrepreneurs Globally
Yo!Coach has been in the industry for very long. Since its launch, this software has helped many entrepreneurs in establishing their businesses and has earned the trust of entrepreneurs globally. Yo!Coach showcases a plethora of success stories, client testimonials, reviews, and video testimonials which serve as proof of the software's effectiveness. Yo!Coach has helped hundreds of entrepreneurs transform their business ideas into successful ventures.
Gain more insights into Yo!Coach global clientele here.
52. Collaboration with Reputable Brands in the Industry
Recognizing the crucial role played by efficient video conferencing tools in the success of an online tutoring business, Yo!Coach team provides seamless integration of Lessonspace and AtomChat, offering its clients added benefit of exclusive discounts.
Yo!Coach clients will get 40% & 50% discounts on AtomChat and Lessonspace respectively.
Partnership Opportunity
53. Referral Program
It is high time to be part of this ever-evolving education industry. We would like to connect with partners who support the startup ecosystem and are interested in the eLearning domain. With our referral program earn a certain percentage of the commission behind each sale of Yo!Coach system referred through you.
54. Yo!Coach Reseller Program
The demand for online learning platforms has accelerated in recent years. Yo!Coach's reseller program provides you with the chance to tap into this trend. Partner with us and resell our reliable and proven online tutoring solution under your own pricing strategy.
Marketing Features
55. Inbuilt Analytics Capabilities
Yo!Coach presents robust reporting features that provide relevant and accurate data, aiding in data-driven decision making. Additionally, Google Analytics is also integrated into Yo!Coach which makes access to important insights easy.
56. SEO-Friendly Features
Built-in SEO-specific features in Yo!Coach makes it easy for entrepreneurs to gain visibility, enhance their online presence, and reach their targeted audience. SEO capabilities offered by Yo!Coach includes:
URL rewriting
Meta tags optimization
Manageable robots.txt,
Manageable XML & HTML Sitemap
Add Google Tag Manager script
Add site tracking script
Conclusion
In this dynamic landscape of the online tutoring industry, choosing reliable software can significantly impact the success of your business. Yo!Coach stands apart from the rest because of its compelling features and functionality. However, before embarking on your business journey evaluate all the factors and make a well-informed decision.