Yo!Coach's aim has always been to provide a professional, reliable, and simple to use tutoring platform to tutors, learners, and admin. We are proud to announce Yo!Coach's latest version 2.3. This new release is the next footstep towards adding more value for the users (learners & tutors) as well as the business owners.
What's New
The new release brings major usability updates, feature enhancements along with an updated look and feel. The latest changes are sure to enrich the learning/teaching experience and help the users work more efficiently. The enhancements enable an engaging experience for the tutors and learners on the platform and increase the performance of the tutoring marketplace. Let's look at what the new release has in store for its users.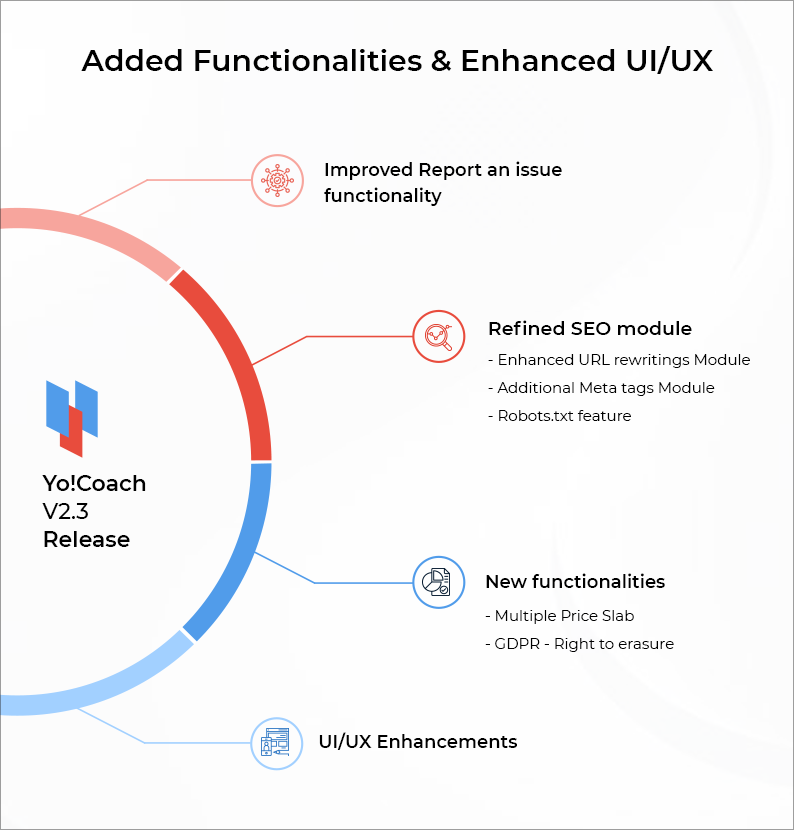 The V2.3 is majorly focused on adding features/functionalities for the end-users i.e. tutors and learners. The added functionalities are:
Multiple Price Slab: The teachers will now be able to define the pricing for different slabs such as 1-5 lessons, 6-10 lessons, and so on. The learner can purchase the lessons in any quantity and avail discounted prices. The admin will be responsible for creating and managing the slabs.
GDPR – Right to Erasure: In compliance with the GDPR policies, Yo!Coach now allows the users (tutors & learners) registered on the platform to raise a request to the admin to erase their personal data and account from the system. The admin can view and manage the account delete requests.
Enhancements/Refinements
The admin can now set the duration window to report an issue by the learner after lesson completion.
The duration window to escalate the issue after being resolved by the tutor is also managed by the admin.
Refined URL rewriting Module
Refined Meta tags Module
Robots.txt file added to disallow indexing of the unwanted pages and avoid overloading the platform with requests.
---
---
UI/UX Fixes
The UI/UX of the tutor and learner dashboard is revamped to give it a fresh look. The pages that have been changed are:
Home page
Find a tutor
Tutor profile page
Checkout pages
Apply to teach
Tutor Registration Form
Group Classes
About us
Contact us
FAQs
Tutor Dashboard pages
Learner Dashboard page
Have a look at the new and enhanced features of Yo!Coach V2.3.
With Yo!Coach V2.3, we are looking forward to more success for edupreneurs. If you have any questions or feedback, you are welcome to request a demo at your convenient time. We are looking forward to hearing from you.