Table of Contents
The life-altering conditions caused by the pandemic brought times of despair. And, it is in such times that people follow various methods to cope. Astrology is one such way. Statistics prove that several astrology-based online startups saw a growth of 10 to 30% in 2020. Another study revealed that online astrology revenue grew by 64.7% in 2019 to $40 million in 2020, in the United States alone. Even personal astrologers digitalized their businesses and shifted to online channels. That said, in this blog, we cover everything you need to know about starting an online astrology consultation marketplace in 2022, but first let us have a look at the history of astrology.
History of Astrology
Since the dawn of civilization, human beings have been tracing stars and planets. They hunted, planted, and migrated with the stars. Living in the rhythm of nature's cycles helped civilizations to survive. More so, people thought they were at the mercy of nature, and so they viewed the heavens with fear, superstition, and even awe as the right amount of rainfall could guarantee a good harvest. And, a flood could wipe out the food supply just as easily.
But, modern astrology, like humanity, has evolved. Shared below is the rough timeline of this practice which has existed for nearly as long as humanity has.
Timeline of Astrology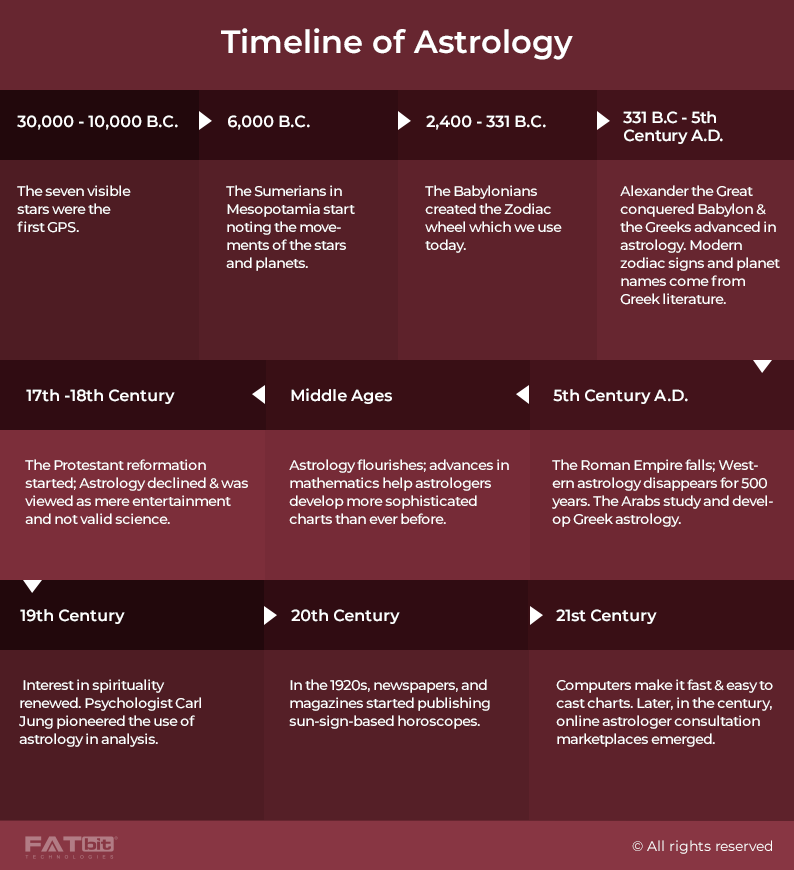 Overview of an Online Astrology Consultation Marketplace
Online astrology consultation marketplace facilitates consultation with astrologers. The clients are given advice and guidance based on their zodiac signs, birth charts, and more. So individuals can register themselves and choose among the top astrologers listed on the marketplace as per their requirements. Once the astrologer is narrowed down, a booking request can be sent. On acceptance, individuals can get real-time answers to their questions from astrologers.
Why Go For An Online Astrology Marketplace?
Potential Industry to Invest
As already mentioned above, astrology is not new. It has been going on for ages. Especially if we look up to ancient times and different mythologies. So the growth in the market is there while the competition is low. Also, as per research, astrological and mystical services capture around 2.2 Billion US dollars market.
Millennials – The Potential Audience
Every generation is different and is generalized on the basis of their attitudes and values. Baby boomers are considered optimistic, while millennials are considered pragmatic and full of entrepreneurial spirit. In comparison to other generations, they are also the ones to be considered the least religious. But millennials also show an increased interest in spirituality (not necessarily tied to organized religion). According to Pew Research Center, more than 60% of American millennials believe in New Age Spirituality.
This can also be due to their stress-induced lives. A study conducted after the 2007-2009 recession revealed that symptoms of depression and anxiety were greater for millennials when compared with baby boomers. The difference also explains the older generation's tendency to use active coping strategies. On the other hand, google-fluent millennials who are in search of guidance, fall on astrology as a coping mechanism.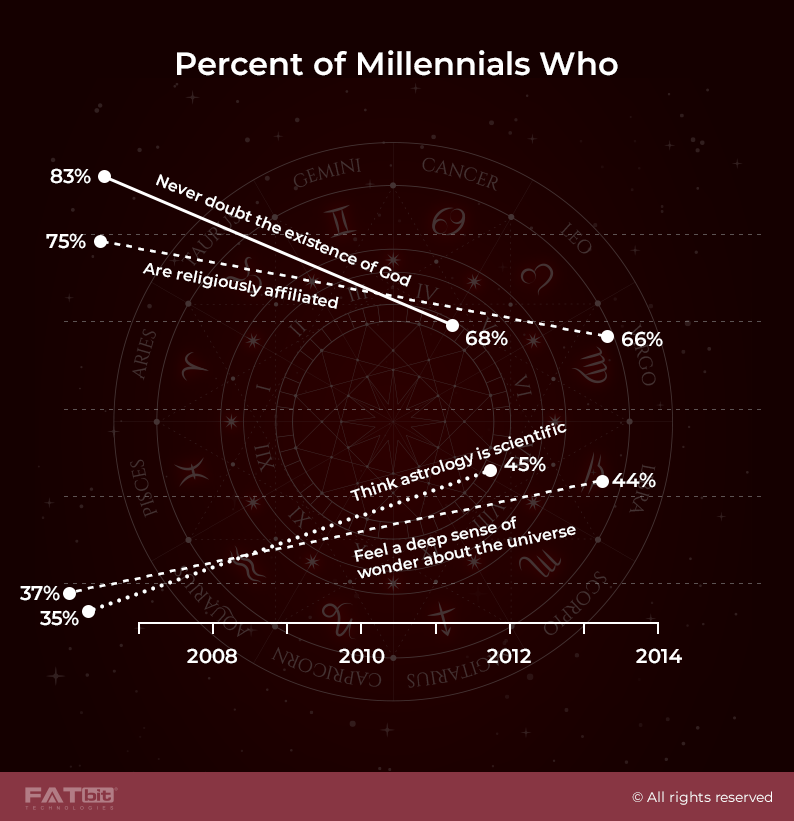 Venture Capitalists' Interest
According to Google Trends, searches for astrology and birth charts have been on a rise since 2020. As millennials have been drawn to the system of charts and transits, in order to seek some form of spirituality, venture capitalists have been eyeing large returns from a range of digital-first businesses dealing in the mystical services market.
Curious to learn more about an online astrology consultation marketplace?
Types of Online Astrology Consultation Marketplaces
Vedic/Indian Astrology
In the Vedic astrology system, the predictions are done based on planetary conditions. The birth charts (Kundli) are designed by calculating the position of planets at the time of birth and accordingly the predictions are done.
Western Astrology
Similar to the Indian astrology style, Western astrology is based on the calculations of Zodiac signs, i.e. calculated according to the birth date and month.
Chinese Astrology
There are 12 animal signs like a dragon, pig, snake, tiger, and more. The astrology here follows lunar calendar principles. They follow the 12-year cycle. Each year is dedicated to one of the animals that are decided by the revolution period of Jupiter and Sun. Further, the future predictions are based on 5 important planets including, the sun, comet's position, and moon at the time of a person's birth.
Numerology
A prediction is based on numbers derived from the user's birthdate. The whole birthdate is calculated. For example, the date of birth is 5th June 1995, so the addition will be 05+06+1995. The addition will be done till it comes to a single-digit like 5+6+1+9+9+5= 35 = 3+5 = 8.
Palmistry
Palmistry, also known as chiromancy, chirology, or palm reading, is the practice of fortune-telling by the interpretation of lines on the palm of the hand.
Tarot Reading
In this type of reading, the future is predicted with cards that are shuffled and laid down. The card that comes for a particular question, tells what the future holds.
Crystal Ball Gazing
In this type of fortune practice, a person gazes and observes the crystal ball, and on the basis of what is seen, predicts the future. Additionally, this practice of fortune-telling has been followed in many countries for centuries.
What Makes Online Astrology Marketplace so Popular?
Personalized Astrology Services
Astrology is and always will be a personalized service. Though newspaper columns offer information related to astrology, such as horoscopes based on Zodiac signs for a group, it is still not personalized. On the other hand, the online astrology consultation platform offers tailored predictions to an individual.
Convenient and Cost-Effective Astrology Services
It is almost impossible to visit a top astrologer who is located miles away, just for a consultation. With an online astrology consultation platform, you can pick the best astrologer after analyzing the profile and user reviews. As far as the consultation charges are concerned, you can filter astrologers according to your budget.
Time-Efficient Astrology Services
Astrology is a high-level form of mathematics and through algorithms, online astrology consultation becomes simpler and time-efficient. You even save a lot of time waiting for an appointment as you do not have to visit the astrologer in person. You just consult your favorite astrologer by scheduling an appointment online.
Privacy Concerns
Certain people are more cautious when it comes to privacy. Fortunately, an online consultation marketplace is designed in a way where your identity is not disclosed and 100% privacy is offered.
Top Features of An Online Astrology Marketplace
Easy Listing and Profile Creation
Listing an astrologer on your marketplace should be easily done. You can also choose the services each astrologer offers, their area of specialization, hourly rates, and more. A customer should be able to sort and find the astrologer from the list of astrologers listed on the marketplace without any hassle.
Ratings and Reviews
This is one of the major metrics based on which the customers choose an astrologer. Online astrology marketplaces should pay attention to the ratings and reviews system. Customers should be able to filter through the search results as per their preferred well-rated astrologer.
Live Sessions
The marketplace should facilitate real-time conversations between the astrologer and the client. Hence, basic features like audio, video calling, group sessions, and live chat should be available.
Media Upload/Download
An online astrologer marketplace should allow the uploading and downloading of horoscope details. It will be even better if the media format of the horoscope copy can be in a printable format.
Easy Booking of Appointments
A good astrology consultation marketplace should be intuitive so that clients can book appointments with astrologers of their choice with a click of a button. Further, an easy-to-use dashboard should allow clients to take a look at their appointments at a glance so that appointments are not missed. Push notifications should also ensure that clients never miss an update on their astrological readings.
Having Multiple Payment Gateways
Building an online astrology coaching marketplace involves integration with multiple payment gateways. As a client can be from anywhere in the world, so it is important to have multiple payment gateways.
Creating an Online Astrology Consultation Marketplace
There is a lot of research, planning, and execution that goes into turning an online astrology consultation marketplace idea into a reality. For the sake of simplicity, we share the process of creating an online astrology consultation marketplace below:
Method 1:
Analysis- In this step analyze the market. Conduct competitor analysis so that you are aware of what is in the market. What are the requirements of the audience? What is something that you can provide better than your competitors?
Select a Niche- Online astrology consultation is a vast arena. You can choose a particular niche from the various types such as Indian astrology, Chinese astrology, Tarot Reading, and more.
Design- This is the next step toward starting an Online Astrologer Consultation Marketplace. In this phase, wireframes based on the above parameters are created, i.e. draft designs are prepared for the software. It helps with the development of the overall architecture of the marketplace.
Development- Post design, the platform development process begins, i.e. where the actual coding starts.
Testing- In this phase, the astrology consultation platform will be tested extensively so that it is free from bugs, faults, and problems.
Release- Once the platform is free from bugs and errors, it is released.
Support- After deployment, it is important to have a support team that looks after any problems that might occur in the real-time scenario.
Method 2:
You can select a readymade consultation software that is built by integrating trending features so that popular monetization channels can be accommodated.
Online Astrology Consultation Marketplace – Revenue Models
An online astrology consultation marketplace can earn revenue via the following methods:
Commission
This is the most common method of revenue generation as it allows the admin of the online astrology consultation marketplace to charge a nominal commission fee from the client and the astrologer.
Ad Campaigns
To make the most of an astrologer consultation marketplace, put up ads for personal counseling sessions, gemstones, astrology books, and so on.
Selling Merchandise
In the Astro space, you can offer an array of products and services to choose from. Further, you can make the most of it by providing an individualized reading on the online platform of astrology and horoscope.
Subscription
This method is a great source of revenue generation for an online astrologer consultation marketplace, as the admin can earn from daily, monthly, and yearly horoscope subscription plans.
Featured Section
Online astrology consultation marketplaces can also generate money via having a featured section where astrologers offering premium services can be highlighted. But for the same, a certain amount as per the placement is charged.
The Future of Online Astrology Consultation
Just as the world gets more connected with the evolution of technology, the dynamics of astrology prediction have also started to change, paving the way for machine learning and artificial intelligence. Moreover, as the prospect of building an online astrologer consultation marketplace can be arduous, software solutions like Yo!Coach will have a significant role to play. The solution not only allows you to set up an online consultation marketplace in less time but also incorporates advanced features and functionalities, pivotal for setting up an online astrology consultation marketplace.
Launch your online astrology consultation marketplace with Yo!Coach
Conclusion
The pandemic-led paradigm shifts in consumer behaviour have given online astrology services a definite leg-up. For certain people, major life decisions such as starting a new business, or finalizing a business deal are determined by astrologers. Certain others enquire about their health, career, and relationships. Hence, online astrology consultation is a growing segment, so if as an entrepreneur you are looking to launch an on-demand astrologer consultation marketplace, this is the right time. To get more information regarding starting your online astrology consultation marketplace, you can get in touch with us.