The incessant growth of online learning technologies has prompted music educators and learners to consider the possibilities of learning music online. Increasing internet penetration, smartphones, and tablets' usage in the emerging economies have all contributed to the growth of the online music learning market. The global online music learning market is expected to witness a steady growth rate of 6.1% during 2018-2025 and hit 143.3 million by 2025.
Table of Contents
With the onset of the COVID19 pandemic in late 2020 and the uncertain atmosphere created by it, the music learning industry finds itself at a definitive shift. As such, to capitalize on the growth opportunity many key players are turning to online platforms that enable music learning.
The Digital Turn in Music Education
Lessonface is the most standout example in this digital shift. The company harnessed the power of the internet to create musical opportunities for thousands of teachers and learners worldwide. Using a computer or tablet, music learners can connect with hundreds of music teachers to further their musical interests. Another platform that offers free videos of masterclasses held by music teachers is iClassical Academy. It allows music lovers to register on the platform for free and access unlimited videos of master classes.
Benefits of Online Music Learning
Despite the evolution of technology at breakneck speed, many people are still quite hesitant about online music learning. However, there are so many great reasons to learn and teach music online. Let's take a look at a few of them up close.
Self-Paced Learning:

One of the evident advantages of learning music online is that the learners can learn at their own pace. Learners can record, rewatch, rewind, pause, and even start the live sessions all over again to go as slow or as fast as they want to. They can take all the time they need as their abilities and desires allow them to make sure they have understood the technique down to the detail.

The comfort of Home:

Another obvious benefit of online music sessions for the learners and teachers is that the sessions can be conducted and attended from the comfort of their home. There is no hassle to get ready for the classes. Being in the living room and learning/teaching music online at a time suitable is convenient to both learners and teachers.

Helps Saves Money:

Online music learning is a sure way to save lots of money. Due to convenience and flexibility for the teachers, online music lessons are less priced than conventional one-to-one lessons. Moreover, the traveling cost and time also add up the costs of traditional music lessons. All of those expenses fade away with online lessons.

Breaks Geographical Barriers:

Online music lessons make it possible for the learners to connect with global experts. It's particularly beneficial for the learners living in rural areas as it gives them access to music experts even if they are thousands of miles away. Similarly, online lessons also expand the reach of the teachers and help them connect with the music aspirants from all over the world, increasing both their client base and income.
Business Model of Online Music Learning & Teaching Platform
Online music learning marketplaces have quite a simple business model. Other than admin, there are two more users (learner & coach). The detailed working of the platform is illustrated below: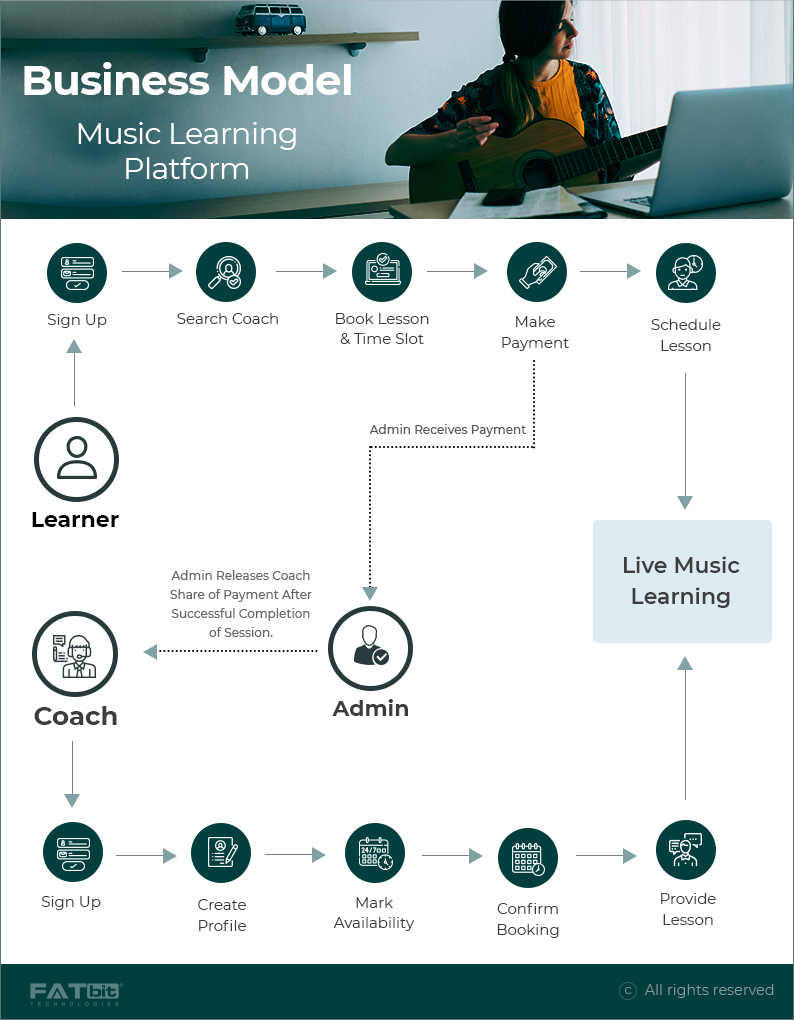 Suggested Read: Top 8 Most Profitable Niches for Online learning & Consultation Business
Online Music Learning Platforms Launched Recently
The massive growth potential of the industry has attracted scores of startups from all over the world to stake their claim on the gains. Let's discuss the stories of a few of them:
Sounds Kradle: Sounds Kradle, a Philippines-based music learning enterprise successfully adjusted to virtual teaching amid the challenges of coronavirus. The platform came up with its very own online learning app, the Applied Music Platform by Sounds Kradle, to facilitate the learning and teaching experience for music enthusiasts. The platform is highly secure and promises to deliver a superior learning experience with curated voice lessons from the country's leading musicians.
The platform currently offers individual lessons online in singing and musical instruments like drums, guitar — acoustic, bass, electric piano/keyboard, and violin.
Online Lessons: This Ireland-based music learning platform helps music enthusiasts to connect with the finest music teachers in Ireland. Striving to make music education affordable for everyone across the globe, Online Lessons offers a range of packages suitable for different learner's needs. Built using Yo!Coach, the platform is integrated with crucial music learning features that help narrow the gap between the music learners and teachers.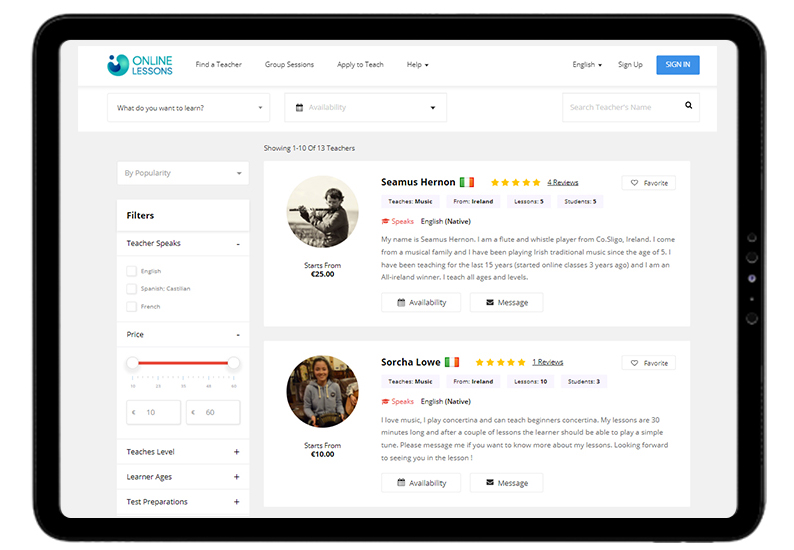 The Maestro Online: In a move to keep up with changing demands, Dr. Robin Harrison, a renowned pianist, organist, and vocal coach created an innovative online music platform – The Maestro Online, to train budding musicians with a catalog of virtual video lessons and live one-to-one coaching sessions via the internet. The platform enabled the coach to reach an international pool of pupils of all abilities and ages.
Play At Work Became Play At Home: Play At Work worked as a startup to offer musical instruction to the employees at work to unleash their creativity and provide balance to their workday. As a huge number of offices moved from in-office to at-home settings because of the coronavirus outbreak, Play At Work also moved online and changed its name to Play At Home. To move in parallel with its clients, the company started offering music lessons to its learners at their home – virtually.
Challenges in Online Music Learning & Their Solutions
Despite being a fair show, online music learning brings some unique challenges to the table for learners and teachers. While teachers put in intensive work to equip themselves with technical proficiency, learners work hard to inculcate motivation and a positive attitude towards online learning. Below discussed are some of the common challenges learners face with online music classes along with their potential solutions.
Reluctance To Embrace Online Learning
Switching from traditional classrooms to computer-based sessions is an entirely different experience for the learners. Many don't find the lessons delivered via live sessions, presentations, and recorded videos as efficient as a traditional one; they find it difficult to understand concepts online and reluctant to approach teachers to clear their doubts. Moreover, the learners with a traditional music learning mindset find it a big change and as such, it takes time for them to get accustomed to computer-based music lessons.
Solution: A platform that allows learners to communicate virtually with their teachers to clear their doubts is recommended in this scenario. Platforms enabled with video conferencing functionality bridge the communication gap and make it easy for the learners to get more clarity and understanding of key concepts. Discussion with peers, in the case of group classes, also helps a lot for a better understanding.
Distractions & Inefficient Time Management
While learning from home is one of the top reasons learners prefer online classes, it comes with several distractions from other family members around, particularly younger siblings. Learners learning music from home try to juggle between school, work, and family responsibilities making time management more challenging.
Solution: Building a proper schedule and prioritizing tasks can help in efficient time management. A platform that enables the learners to schedule the lessons at a time preferable to them proves to be a great help in this scenario. Learners should make sure they schedule the lessons at a time when there is no distraction so that they can stay focused for better learning.
Lack of Motivation & Learning Environment
Online learning requires self-motivation to stay focused and engaged. However, much to their surprise, many learners lack it. When learners do not attend classes at a set time in a physical classroom, it is difficult to gather motivation and get started with online sessions. The absence of an instructor and other classmates makes it tempting to procrastinate on the tasks.
Solution: There are many ways to motivate learners for online lessons. Incorporating gamification and quiz activities in the pedagogy engages learners and creates immersive learning experiences. Using the latest educational trends also helps to identify the source of motivation for the learners.
Taking online music classes in a different time zone is a pretty big challenge. It is a major disruption for the learners as well as the teachers attending live sessions. Learners and teachers in some countries have classes until late at night while other countries report having sessions too early in the morning leading to unattended sessions and low productivity.
Solution: Time Zone specific reminders for the upcoming scheduled sessions simplifies this problem for the teachers and learners residing at different time zones. Time Zone friendly platform helps teachers to mark their availability as per their time zone which is reflected to the learners in their local time zone. This helps nullify the barrier between the users from different time zones.
Features That Further Facilitate Online Music Learning
In addition to the features and functionality discussed before, before you build an online music learning platform, consider the following features to deliver an even more convenient and satisfying learning experience.
Multilingual & Multicurrency For a Truly Global Reach:

A music learning platform with multilingual and multi-currency features offers the best opportunity to make the platform global and tap into new geographic markets. It allows the system to be available in multiple languages and currencies depending on the user preferences and location. Learners from all over the globe can access the platform and achieve their music learning goals.
Feedback To Engender Trust & Social Proof:

To create trust and transparency on the music learning platform, the Learners should be allowed to rate/review the teachers and courses. It helps other learners make an informed decision while choosing teachers and courses for themselves.
Multiple Payment Methods For Maximum Conversions:

Having multiple payment methods offers a ton of advantages that help make your music learning business more profitable. Providing only one payment option drastically limits the number of customers you can service while multiple payment methods improve the brand image and conversions on your platform. It also increases the geographic coverage and lets the learners make the payment in their own currency.

Marketing Module:

A proper marketing module packed with features to attract targeted visitors to your music learning platform is an essential requirement. Marketing features like SEO, Blog, Google Analytics, enhance your brand image, improve your online visibility, and bring more business so as to improve your cash flow.
Want to Launch a Feature-Packed Music Learning Marketplace
Launching a Future-Proof Online Music Learning Platform
Incorporating all the above-mentioned features, including the ones which are still untapped in the online music learning industry, will empower you to run successful music learning business. A comprehensive solution to launch a feature-packed online music learning platform is Yo!Coach. Harnessing the power of technology to move music learning forward, this solution helps manage all the cumbersome tasks of an online music learning platform.
From managing the teachers and learners to optimizing the processes of the platform, Yo!Coach offers dynamic features to amp up your music learning business. With the right set of features in Yo!Coach, you can save your precious time and get your online music learning platform up and running. Yo!Coach has already developed some prominent online music learning platforms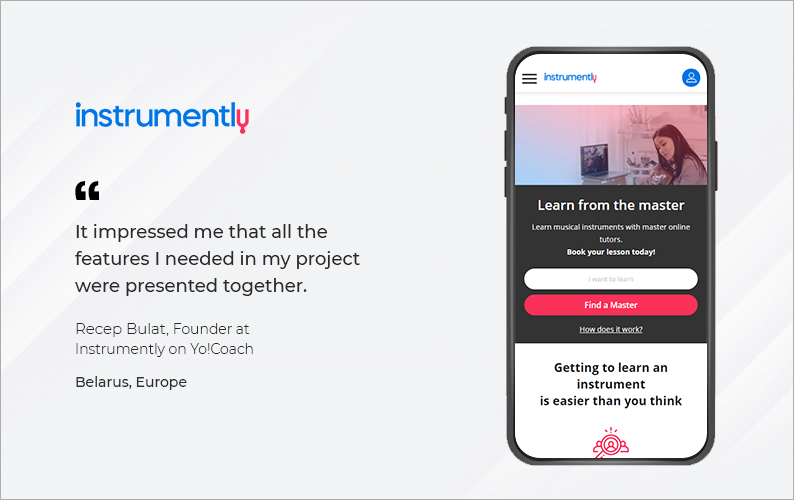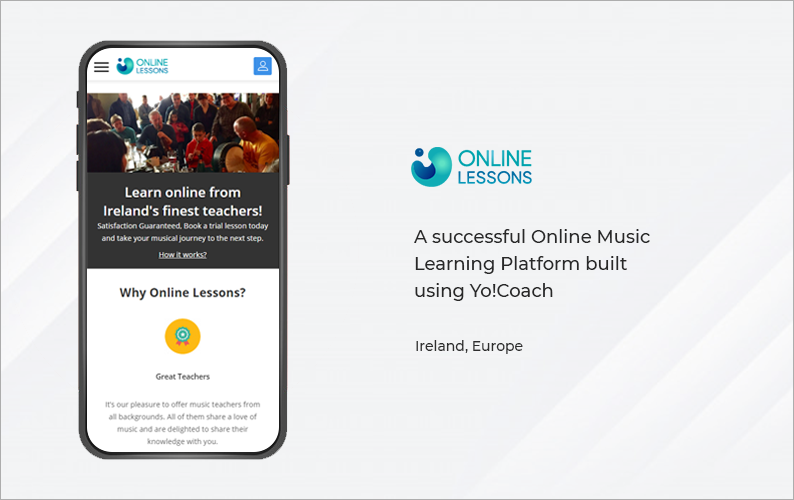 Trusted by businesses all over the world, this solution has everything to help boost your business. Want to learn more about how Yo!Coach can help manage your business? Contact us today and our experts will help you discover the best tools to help your music learning business succeed!