Outschool is an American online education marketplace for children, founded by Amir Nathoo, Mikhail Seregine, and Nick Grandy in 2015. It is headquartered in San Francisco, California. Outschool offers live classes that connect teachers and learners in one-to-one or group settings to learn everything from Guitar, Salsa, and Cooking to Chemistry, Algebra, and Literature.
Outschool's mission is to inspire kids to love learning by making education fun and interactive. With over 100,000 online courses offered by tutors for learners around the world, Outschool helps supplement what is often missing from the traditional education system. Classes are offered across a variety of subjects, and learners are in the age group of 3 to 18.
Before proceeding further with more insights on Outschool, let's have a look at the journey of this platform in the last few years.
Success Timeline Of Outschool
| | | | |
| --- | --- | --- | --- |
| Year | Funding Round | Money Raised | Lead Investors |
| March 22, 2016 | Seed Round | $320K | Y Combinator |
| June 26, 2017 | Seed Round | $1.4 Million | Collaborative Fund, Sesame Workshop |
| May 28, 2019 | Series A | $8.5 Million | Reach Capital, Union Square Ventures |
| September 18, 2020 | Series B | $45 Million | Lightspeed Venture Partners |
| April 14, 2021 | Series C | $75 Million | Coatue, Tiger Global Management |
| October 14, 2021 | Series D | $110 Million | Bond, Tiger Global Management |
Total funding amount: $240 Million.
Consumer Demographic Of Outschool
Outschool has been successful in attracting and holding the attention of its target customers(learners and their parents), with the majority of them being parents of children who are currently at school. The graph below illustrates the age distribution for the consumer demographic of Outschool.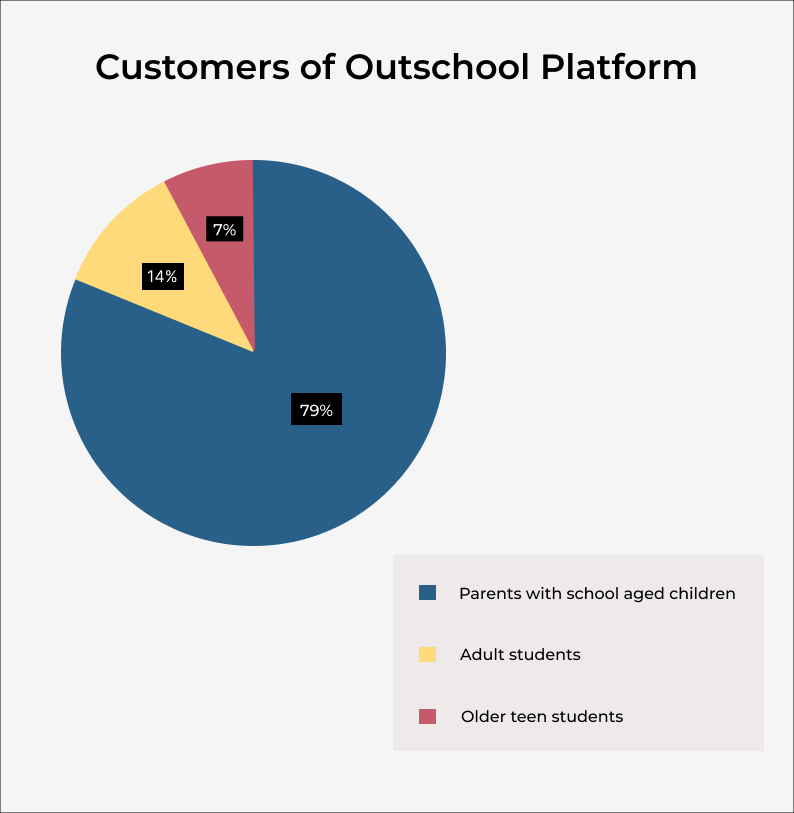 How Does Outschool Work For Learners
We have explored the way Outschool is gaining popularity among learners and their parents. Now, let's deep dive into understanding on how Outschool works.
Signing-Up
Signing up on Outschool's platform is a straightforward process. Users can sign in with their Facebook accounts or with an email address (one per parent). Afterward, they have to enter some basic details about themselves and have to fill in information about their interests, their preferred class times, and types of sessions(one-to-one, group, etc).
Further, they can easily explore the courses on the website. Outschool offers full flexibility to learners to attend sessions according to their preferred schedule times.
Finding Classes
Outschool makes it totally hassle-free to find a class based on learners' needs and interests. At the top of the page on the website, is a search bar that let users search out topics, teacher names, etc., and provides results that are filtered based on:
Starting date of the course
Time slot
Age
Subject
Format (live/recorded)
Length
Outschool let users browse through the website and look for courses on the homepage without even registering which makes it relatively easy for learners to assess whether Outschool is right for them.
Have an Outschool-Like Business Model in Mind?
Figuring Out Right Class Format
There are six live class formats available for learners to choose from:
One-Time Courses
One-time classes allow learners to take classes on some specific topic, or even create something like a one-time art project. These classes are also a great way to test out a new subject, topic, or even educator before making a longer commitment. One-time classes are perfect for last-minute enrollment and are available in a wide variety of time slots.
Ongoing Courses
This is a popular format among learners that lets them attend sessions without a set end date. These classes are subscription-based and offer flexibility to learners to decide how long they want to stay in the course. These classes are ideal for art sessions, music lessons, etc. where kids want a fun extracurricular activity.
Short Courses
These classes are for a shorter time frame, tutors and learners meet once or twice each week for up to four weeks. These classes are ideal for learners who want to get introduced to a new hobby or skill without a long commitment.
One-on-One Courses
These courses are ideal for learners who are shy or more withdrawn from group settings and want a tailored learning experience. One-to-one courses are available for all types of classes, be it one-time courses, semester courses, or ongoing classes.
Semester Courses
These courses are a perfect way to gain in-depth knowledge about a subject. Tutors and learners meet one or more times each week for 8 or more weeks. These courses are ideal for those kids who want a deeper understanding of a particular subject.
Outschool Camps
These are unique classes offered by Outschool in the form of summer/winter camps where learners and instructors meet two or more times within the same week. These camps are ideal for those who want to explore new passions during holiday time.
Once learners figure out the class format they want to enroll in, Outschool let them take a one-time demonstration, so that they can make an informed decision.
Paying For Classes
Once learners decide what classes they are interested in, they can pick available class times according to their schedule and click enroll to sign up for each class. Payment can be made through multiple payment options provided on Outschool. This is how learners can easily avail numerous courses available on Outschool and start their learning journey.
Now let's get an idea of how Outschool works for teachers.
How Outschool Works For Teachers
Outschool lets tutors design their own courses, and create a curriculum for small groups or one-to-one sessions on topics they are interested in. It is not mandatory for teachers to have any formal qualification, however, relevant experience and expertise are an added advantage. Also, Outschool performs background checks for tutors before enrolling them on the platform.
Tutors are given the freedom to set their own prices and decide on the number of students they want to teach. They are given full flexibility to schedule sessions as per their availability, helping them attain work-life balance. Outschool allows tutors to list their courses for free on the platform and cuts a commission fee only after the successful enrollment of the students.
Outschool transfers payments to tutors via PayPal, and tutors' dashboards help them track their earnings.
Want to Build a Platform Like Outschool?
How Does Outschool Stack Up Against Other Online Learning Platforms?
There are plenty of online learning platforms available in the market and competition is fierce. Let's see how Outschool stands out among other platforms in the industry gaining immense popularity and revenue growth.
Price
Prices vary for each course providing flexibility to learners and are about on par with what learners might find on other platforms. The price for each class, although different, is affordable and is required to be paid by a customer just once, without losing access to a purchased lesson at any point in the future.
Class Size
Class sizes in Outschool are smaller as compared to most other online learning platforms, where thousands of students log in at one time. The classes on Outschool are capped at 18 students per class, creating a more personal experience.
Live Interaction
Outschool offers live classes where kids can interact with their teachers and others in real-time. They can ask questions, have discussions, and socialize with their peers in a safe environment.
Wide Variety Of Courses
Outschool offers a wide variety of kid-oriented courses compared to most other platforms. And these are not just academic courses but life skills, coding, art, and languages are also taught on the platform.
Specially Designed For Kids
Major USP of Outschool is its courses are designed particularly for kids under 18, making it the main focus of their platform and subsequently making the courses as engaging as possible. The other learning platform providers offer classes to kids as a product extension, and their main focus is on adult learning.
Unique Learning Experience
All courses offered by tutors on Outschool are unique and personal and no two topics are the same. Learners can take different courses for the same subject but they will have different approaches or styles to them. That's what makes Outshool unique.
Refund Policy Of Outschool
Outschool is pretty generous with refunds. They guarantee quick refunds to provide a positive learning experience on their platform. Below mentioned are their conditions for refunds:
| | |
| --- | --- |
| Condition | Refund |
| Want to cancel up to 24 hours after signing up (up until the class begins) | Full |
| Teacher canceled class | Full |
| Teacher misses a one-time class | Full (upon request) |
| Class start time is rescheduled | Full (upon request) |
| Part of a class is rescheduled | Can get a refund of the balance of lessons remaining if class not attended. |
| The teacher doesn't teach the number of lessons promised | Can get a refund for the balance of lessons the teacher didn't teach. |
| Missed a class | No refund |
| Missed 3 classes | Fee is forfeited, the class may stand canceled |
| More than 10 minutes late to class | Class that day can be canceled, no refund |
How Outschool Earns Its Revenue?
Outschool's revenue model includes taking a service fee of 30% from learners' payment each time a learner enrolls and tutors receive 70% of what they have decided to charge for their course.
Key Features of Outschool
Outschool is an innovative education platform that offers a variety of engaging, small-group classes online. The numbers show that learners taking Outschool classes are highly engaged. Their class activity rating averages 4.75/5, and over 85% of learners stay enrolled for the complete duration of their courses.
All live classes on Outschool take place through Zoom. For collaborative and interactive learning, key features offered to learners by Outschool are
Text Chat
Screen Sharing
Whiteboard
Annotation
Raise hand feature
For better class management Outschool offers the following features to the tutors:
Waiting rooms
Focus mode
Mute all feature
Remove a learner
Speaker and gallery view
Breakout rooms
Launch a Feature-Packed Online Learning Platform
How To Launch Your Own Platform Like Outschool
Considering the inclination of parents towards platforms like Outschool for core subjects and extracurricular activities, we can anticipate that the demand for such platforms is going to increase in the near future. And a marketplace model like Outschool can prove to be a lucrative business opportunity.
But, building a platform like Outschool is a cumbersome task, especially if you are starting from scratch. There are a plethora of ready-made solutions available in the market that can help you kick-start your entrepreneurial journey hassle-free. One software solution that has already helped numerous entrepreneurs launch their own online learning platforms is Yo!Coach.
Yo!Coach is a 100% white label online tutoring software that can build an Outschool-like platform quickly. It comes with an array of features and functionalities essential for the seamless operations of online learning business. Yo!Coach comes pre-integrated with popular video conferencing APIs for a collaborative experience for both tutors and students on the platform.
For smooth interaction, Yo!Coach provides features like a virtual whiteboard, textpad, screen sharing, screen recording, auto-translation in real-time chat, etc. Yo!Coach also comes pre-integrated with multiple payment options like 2Checkout, Authorize.Net, PayGate, PayPal, Paystack, and Stripe for seamlessly managing payments on the platform.
All-in-all, if you are looking for a reliable solution that not only effortlessly manages all stakeholders on your platform but also provides essential features and functionalities then Yo!Coach is the one for you.