As the pandemic locked doors of markets, factories, offices, schools, and universities across the globe, there was a massive upsurge in the traffic of online learning platforms. More and more people of all age groups were looking forward to engaging in meaningful learning. On the other hand, the entrepreneurs also sprang up to exploit this opportunity and launched online platforms to fill in the gaps created by shutting down of educational institutions.
While making it possible for the learners to continue their studies or acquire new skills without leaving their homes, it also empowered the owners of online learning platforms to earn huge revenue. Out of the many online teaching platforms like Verbling, SkimaTalk, Preply, Spitball, and iTalki, Cambly was also perfectly placed to set up this new challenge. This easy-to-use platform provides English learners on-demand access to English tutors over video chat.
What is Cambly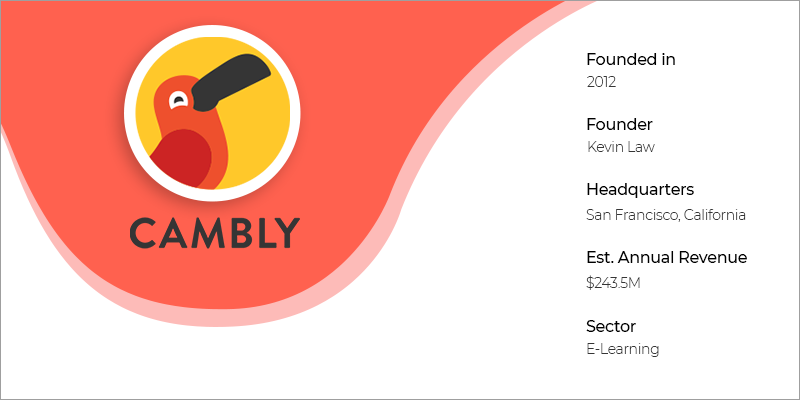 Cambly was founded in 2012 by Kevin Law and Sameer Shariff with an aim to provide an English learning platform. Soon after its launch, Cambly joined the Y combinator program in 2015 and raised the first round of seed funding which helped it to establish itself as a global-first business. In a very short span of time, the platform gained huge popularity which can be estimated by the number of countries it is being used.
Popularity of Cambly
With the biggest markets of the app in Turkey, Japan, the Middle East, and Korea, Cambly is being used in a total of 130 countries. Available for both iOS and Android devices, Cambly has flexible subscription plans for every user. The approximate annual revenue of the app is $243.5M which has tremendously grown in 2020 due to the pandemic. Moreover, this trend of the online tutoring market is providing lucrative opportunities for entrepreneurs planning to invest in this industry.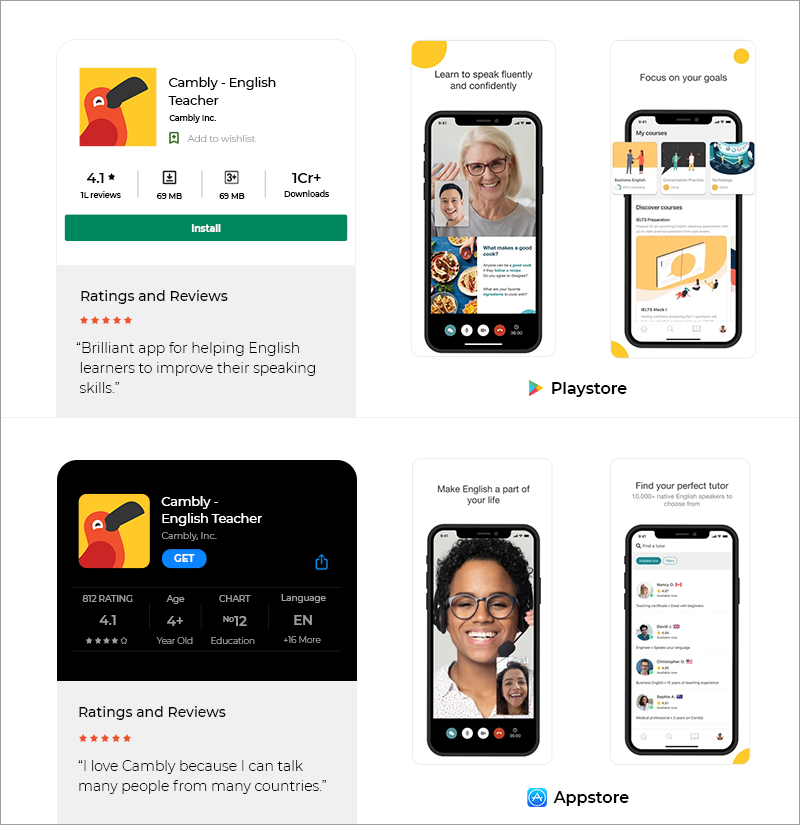 Aspiring to Join this Billion Dollar Industry
How Cambly Works
The working of Cambly is quite different from other language learning platforms. Cambly's in-app chat platform does all the work. The student who has signed in just needs to have a conversation with a native speaker. For tutors, it is a log-in-and-talk style platform. The simple working of Cambly can be explained as follows:
Tutors log in and mark themselves available for tutoring.
Tutors are then put into a queue from where learners choose their tutor.
Cambly does not require tutors to schedule the classes in advance. Tutors have complete control of when they work. One important point to note is that tutors do not get the call as soon as they log in. Getting a call depends on a number of factors such as call rush, demand at the time tutor logs in, and luck. The chances of tutors being on a call are around 50% of the time logged in.
Some exceptions to the log-in-and-talk system are:
Priority Hours: This is something Cambly has introduced to have more teachers available when demand is high. Tutors can sign up to be active during those hours in advance and can receive more calls. Many times Cambly offers to pay guaranteed incentives for signing up for priority hours.
Reservations: Tutors who wish to have a more stable schedule can open up reservation slots and get more teaching hours. This way learners can book lessons with the tutors in advance.
How Cambly Earns Money
Cambly's main source of income is the subscription fees it charges from the learners to access the platform. The subscription plans are quite flexible where learners can choose their weekly agenda, i.e. how many minutes in a day and how many days in a week they want to talk to a tutor. There is also an option to select the number of months for which the learners wish to buy the subscription i.e
After selecting the weekly agenda and number of months, the platform calculates the total amount and after making the payment, the learner can access the platform. Subscribed learners can talk to any tutor listed on the platforms and can even access the pre-uploaded courses on the platform.
What Makes Cambly a Popular English Teaching Platform
Courses: Cambly offers tailor-made courses for a unique and research-backed approach to language learning. These courses help learners with vocabulary, grammar, and idioms alongside offering plenty of speaking practice. These courses include academic test preparation, business English, conversation practice, and much more that aim to build well-rounded language skills as the learners continue to gain fluency in English.
Flexible Subscription Plans: Cambly has flexible subscription plans and the amount depends on how often & for how long you want to have classes. If the learners decide to practice English for a longer period of time, they can also avail the discounts offered by Cambly.
Multiple Ways to Take Lesson: Cambly offers different methods to take lessons on the platform.

Any available tutor can be contacted by clicking the "Practice English" button on the home page and a lesson with the tutor will start immediately.
Enrolling in a Cambly course and clicking the "Start Lesson" button will connect to a tutor and start the lesson immediately.
Browsing the online tutors' page and clicking the "call" button on a tutor's profile will immediately start the lesson.
Cambly also allows learners to schedule a lesson in advance at a specific time and with a specific tutor.

Automatic Translation Tool: To make it easier for beginner students to chat with native English speakers, Cambly's in-session text chat automatically translates between English and their native language. It makes it easier for both the tutor and learner to communicate.
Video Recording: Learners can record the video lessons and rewatch those videos for comprehension. Learners who want to learn at their own pace find it useful to solidify new concepts and vocabulary words.
Launching an Online Tutoring Platform like Cambly
The outstanding success of Cambly has inspired many other entrepreneurs who are planning to launch a similar business. In addition to this, the growing rate of globalization makes the language tutoring business quite potential and lucrative. What aspiring entrepreneurs need to do is to find the gaps in Cambly that are still uncovered and create a solution for them. Cambly has the perfect business idea, however, there is much more to starting a business.
A ready-made solution to build a language tutoring platform is required in the first place as the need for language learning is at its peak due to the ongoing pandemic. Yo!Coach is one such online tutoring software specially built to cater to such businesses. This white-label software is integrated with a suite of features that makes language teaching and learning a smooth process. The solution ensures a better ROI and success of language tutoring platforms.
The primary features of the solution are:
Video chat
Virtual whiteboard
Flashcards
Textpad
Multiple Screen Sharing
Language Translation
Group/One To One Learning
In addition to these system features, the admin features of the platform allow business owners to have complete control over the platform. Some of the admin features are listed here:
User Management
Commission Management
CMS Management
Reports/Statistics
Slot Duration Management
Yo!Coach has already helped a number of startups build their brand and is looking forward to partner with budding entrepreneurs to help them start their language tutoring platform.